Nick Diaz believes he would have led Nate Diaz to victory over Conor McGregor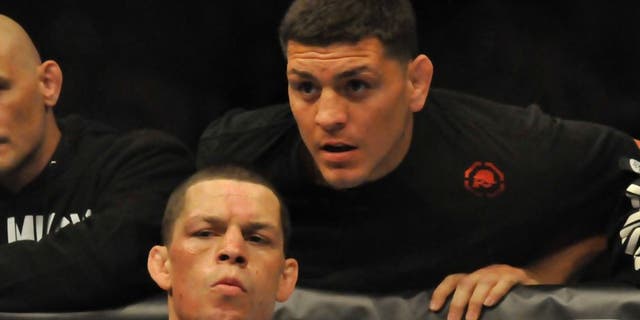 Nick Diaz wasn't allowed to corner Nate Diaz in his rematch with Conor McGregor and the former UFC title contender believes it may have cost his brother the fight.
The elder Diaz brother was banned from cageside after failing to pay a fine to the Nevada State Athletic Commission when he was suspended for 18 months following a failed drug test for marijuana.
Now Diaz says his absence may have been the difference in his brother getting a victory rather than leaving the Octagon that night with a majority decision loss to McGregor.
"It's just like one inch. That's the difference on how that fight could have gone and as far as I'm concerned, I definitely would have been that inch. They just wanted to keep me out of there. It would have definitely helped him out a lot," Diaz told "The Opie Show" this week.
"I was seeing things in that fight that I would have called and told him. Like I was seeing things that he wasn't seeing 'cause I do these things and I know how they work out for me. It's kind of like a formula. It's like this is what you do. Come the third or fourth round if I would have been there, I think we would have been able to put it together and get that guy out of there."
With Nick not being allowed to corner his brother or even help him warm up in the back, the responsibility fell to former lightweight title contender Gilbert Melendez to lead the way instead.
Melendez has cornered both Diaz brothers several times throughout their careers, but Nick believes he could have offered a few minor details that would have clinched the victory at UFC 202.
"The thing is (Gilbert) Melendez is there and the thing about Melendez, he's great, he's really smart, he knows what he's looking at but they're training partners so they're kind of opposites stylistically cause he's more of a wrestler. He goes on top. So the things that Gilbert would tell him to do is more of what Gilbert would do. Like what I would tell him to do is more of what he would do," Diaz said.
"I'm not saying that it wasn't helping having Gilbert there telling him to do the wrong stuff. Gilbert wasn't necessarily telling him to do the wrong stuff, he just wasn't seeing the things that I was seeing. That was kind of rough. It's tough enough to watch the fight and I'm being there watching on TV and can't do anything."
As far as what he would have done differently, Diaz says he knew McGregor was waiting for Nate to get too aggressive to hurt him with counter punches. Both Diaz brothers are known for constant forward pressure while McGregor is a devastating finisher with his countering ability.
Diaz believes that would have been a major difference if he had been able to coach his brother at the start of the fight.
"I would have told him not to throw punches at that dude at all because he's going to sit there and watch you and try to counter everything," Diaz said. "All you've got to do is fake at him and flick at him and (expletive) with him and that's how you do that. He went out there and he just didn't have it together in the first round. I think I could have clicked him into the right mindset. Plus me standing in front of him, fooling around with him, my right hand forward, we all three stand the same way. So he doesn't have anybody else like that to kind of work with him.
"I just think it definitely would have helped out to have me there a little bit."
Ultimately, Diaz had to watch the event from a suite at the MGM Grand a few blocks away from the T-Moble Arena in Las Vegas and he says it wasn't easy to witness the fight without being able to give his brother any input for five straight rounds.
"It was rough," Diaz said. "I thought he had him out of there for sure at one point in time in the third round I guess. It was like there's no way you're coming back from that."