NFL Round Up: The Sanchize and Jets, Rivera's Panthers, More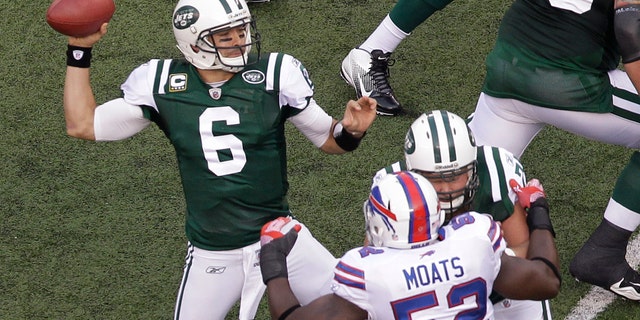 A busy week in professional football, here we go.

Thanksgiving game: Romo Leads the Cowboys to Victory

I won't go into too much detail because it happened Thursday, if you want the rundown click here.

QB Tony Romo led the Dallas Cowboys past the Miami Dolphins in their traditional home game holiday showdown.

The Fins didn't go silently but a 4th quarter drive and a game winning field goal put the Boys at the top of the NFC East at 6-4 and put Romo in the good graces of Cowboys fans & commentators, for now.

I was able to enjoy my Turkey and avoid holiday anger.

Mark Sanchez Comeback

Maria Burns Ortiz wrote about the situation New York Jets QB Mark Sanchez is in.

It seems he got the memo this week and the J-E-T- Jets, Jets, Jets came back to take the lead with a 16 yard touchdown to WR Santonio Holmes with just over a minute left in the game.

The Buffalo Bills took the ball and got close to winning the game in final seconds but in they dropped to 5-6 while the Jets go to 6-5,

Sanchez threw for 4 touchdown passes, one interception, and 180 yards.

It's the first time a Jets QB has thrown for 4 TD's in a game since Brett Favre in 2008.

Frank Sinatra once said if you can make it in New York you could make it anywhere. I never heard him say it was easy.

Colts Stay Winless, Panthers Win

Imagine you're the Indianapolis Colts, you spend the past decade as a contender, a Super Bowl title in 2006, you're only 2 years removed from the Super Bowl and your Hall of Fame QB's neck surgery keeps him out for the season.

If you're the Colts and you begin the season 0-11 you start to wonder if you should come up with a back up plan to avoid this situation when QB Peyton Manning decides to retire.

Carolina Panthers head coach Ron Rivera and his team handled the Colts 27-19 with their rookie QB Cam Newton and great performance from their running game.

The future looks bright in Carolina.

The Cardinals Get Back on Track vs. the Rams

St. Louis' old team the Arizona Cardinals played the troubled St. Louis Rams who are now 2-9.

Cardinals QB John Skelton in his 4th start this season didn't have the greatest day. He threw for two picks and no touchdowns.

Luckily the Rams are awful and the Cards defense had a good day and RB Beanie Wells ran for 228 yards and a TD.

The final score 23-20. The Cards are 4-7.
Victor Garcia is a Fox News Latino contributor.
Follow us on twitter.com/foxnewslatino
Like us at facebook.com/foxnewslatino