NFL countdown: Vikings at Raiders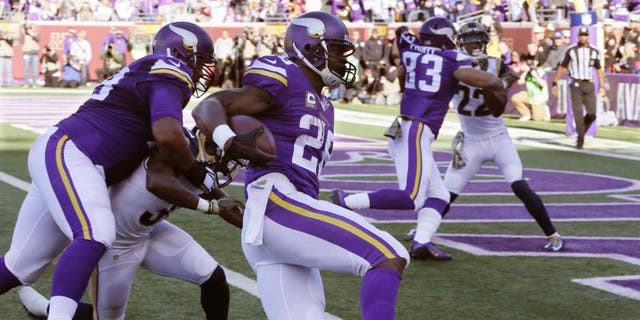 At some point, virtually every NFL season becomes a battle of attrition.
The Vikings are just eight games deep into their campaign, and the training room has already taken on the feel of an infirmary.
A handful of injuries this week threaten to derail Minnesota's impressive, 6-2 start, on the eve of a trip to Oakland. Among the ailing Vikings: QB Teddy Bridgewater, currently listed as questionable for Sunday's game; linebacker Anthony Barr (questionable, hand); linebacker Eric Kendricks (questionable, ribs); defensive tackle Linval Joseph (questionable, foot) and defensive tackle Sharrif Floyd (questionable, knee).
Those are impact players, one and all.
Fortunately for Minnesota, this week's opponent hasn't outrun the injury bug, either. Among the 4-4 Raiders' questionable players for Sunday's game are star rookie receiver Amari Cooper (quadriceps), running back Latavius Murray (concussion) and free safety Charles Woodson (shoulder).
Injuries aside, this matchup features two teams with intriguing contrasts -- Minnesota, with its stingy defense vying with Oakland's ascending offense.
Let's take a closer look at this Sunday's showdown, in which the Vikings are three-point underdogs.
3 THINGS TO WATCH
-- Can the Vikings handle prosperity? Even the most optimistic of Vikings fans probably didn't envision Minnesota sitting at 6-2 at the season's midway point. Now, the Purple and Gold seek their first five-game winning streak since 2009. It would be dangerous, though, for Minnesota's players to start overlooking any foes. Considering the murderer's row that is Minnesota's second-half schedule, head coach Mike Zimmer's squad will need to stay focused on a week-to-week basis. That starts this Sunday, against a Raiders team that's rapidly gaining confidence, evidenced by its 34-20 win over the 5-4 New York Jets on Nov. 1.
-- Can Adrian Peterson continue his hard-charging ways? The focal point of the Vikings' offense has four 100-yard rushing games in his last seven contests. He now leads the NFL with 758 yards rushing. Peterson has played with poise over the last two games, helping Minnesota close out airtight, three-point victories over Chicago and St. Louis with a pair of 100-plus-yard rushing performances. The Raiders' run defense is solid, ranking eighth-best in the NFL.
-- Can the Vikings reverse their Raiders curse? The Vikings don't have what you'd call a decorated history against the Raiders (you might recall the Super Bowl in January 1977). Minnesota is 4-10 all-time against Oakland, including 1-5 on the road. The Vikings' only win at the Coliseum in Oakland came in overtime in 1996.
2 THINGS TO REMEMBER
-- The Raiders' passing game is no joke. Quarterback Derek Carr has lots of options to throw to these days. Rookie Amari Cooper (45 receptions, 653 yards, 4 TDs) largely leads the way, but Michael Crabtree (47 receptions, 591 yards, 5 TDs) is also in the midst of a career resurgence this season, with 11 catches of 20 yards or more. Veteran fullback Marcel Reece (24 catches) has also proven to be dangerous out of the backfield -- and this is where the Vikings could especially feel the loss of linebacker Anthony Barr, if his ailing hand sidelines him this week.
-- Oakland essentially dares opponents to pass. The Raiders possess the worst pass defense in the entire NFL, yielding 314.6 yards per game through the air. The Silver and Black's porous defense -- which allowed 597 total yards in last week's 38-35 loss to Pittsburgh -- could take a turn for the worse this week, if free safety Charles Woodson's shoulder rules him out.
1 KEY MATCHUP
Vikings secondary vs. QB Derek Carr
Carr, Oakland's second-year signal-caller, has taken major strides this season. He has four 300-yard passing games, including two straight. Even more impressively, the 24-year-old has 19 touchdowns to just four interceptions this season, and a rock-solid 104.3 passer rating. Unlike many of his contemporaries, Carr likes to look deep downfield; he has 11 TD passes of 20 or more yards this season -- four more than anyone else in the league. The Vikings could use some increased production from their pass rush, which has just two sacks over the past two weeks.
Follow Kelly Beaton on Twitter