NFC South Notebook: Every team's outlook at the three-quarter mark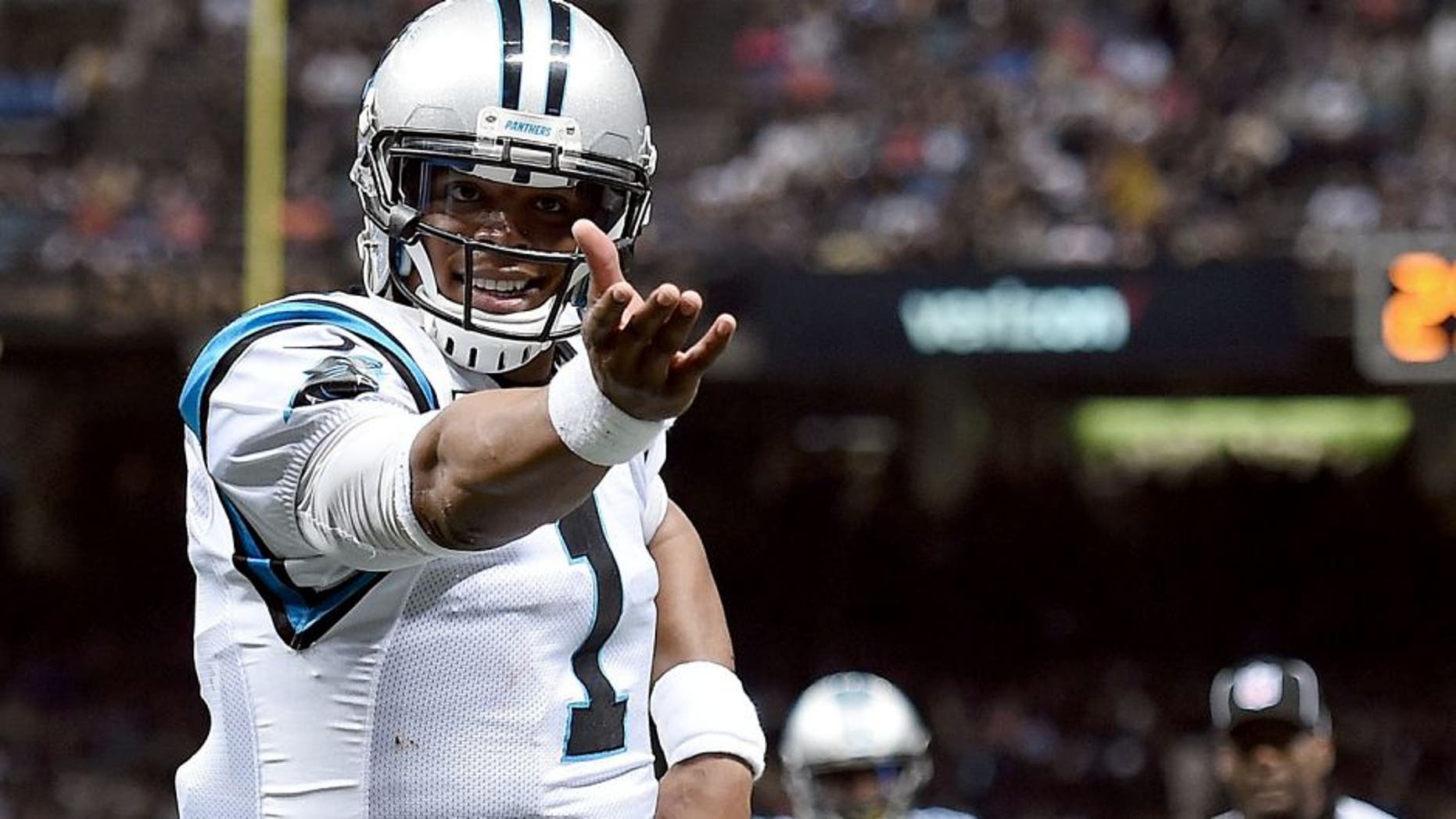 Undefeated? Carolina doesn't care, they just want a Super Bowl
While Ron Rivera didn't fully commit to resting his starters if his team was looking at going 16-0, he didn't sound all that interested in focusing on going undefeated. Instead, the focus was on winning a Super Bowl, as it should be.
For the Panthers, this team looks like not only a Super Bowl contender, but they look like the favorite. They're 12-0 and have a player in Cam Newton, who's likely to be the league's MVP leading the way. Newton has been simply on another level this season, throwing for 25 touchdowns, rushing for seven more and putting together two games where he threw for five touchdowns.
As we've seen over the two seasons before this one, Newton's numbers aren't always beautiful, but he knows how to win. Except this year, his numbers are strong, and the wins just keep on coming.
With a defense allowing just 20.3 points per game, and an offense ranked No. 3 with an average of 31.1 points per game, there's no reason to bet against the Panthers. The most amazing part of Carolina's offensive dominance in 2015? They've done it without second-year stud wide receiver Kelvin Benjamin, who suffered a torn ACL before the season.
The Panthers will be closely watched throughout the remainder of 2015 to see if they go undefeated, but this team's focus is on the bigger prize at hand. It's officially Super Bowl-or-bust in Charlotte, North Carolina.
UP NEXT: vs. Falcons (W), at Giants (W), at Falcons (W), vs. Buccaneers (W)
PREDICTION: 16-0, first place in the NFC South
Jameis Winston is the next big thing in the NFL
To say that the Tampa Bay Buccaneers have turned a corner in the second half of 2015 would be a massive understatement. The Buccaneers have won three of their last four and four of their last six games to get to 6-6 heading into the home stretch. Their Wild Card hopes are alive thanks to a huge win against the Falcons in Week 13.
As for Winston, he may not be throwing for three touchdowns every week (although he threw five just three games ago), but he's leading the Buccaneers in the biggest of ways. When things start to seem like they're falling apart, Winston calms them down. When a big play needs to be made, you can bet Famous Jameis is ready to make it. Since throwing four interceptions against the Carolina Panthers in Week 4, Winston has tossed 11 touchdowns against four interceptions, showing true growth in his rookie year.
Does all of this sound like another quarterback in the NFC South? The similarities between Winston and Newton are intriguing, and both players absolutely know how to close out games. It seems as though the future of not only the NFC South, but the NFL, may be two quarterbacks on the top two teams in this division.
As for Tampa Bay's needs this offseason, well, they need to keep Doug Martin, for starters. Martin is set for free agency, but both sides seem to want to work out a deal. Lastly, finding some defensive help to shut down opposing wide receivers in the draft could be important. Tampa Bay has allowed 2,042 yards and 16 touchdowns to wide outs this season through 12 games.
UP NEXT: vs. Saints (W), at Rams (W), vs. Bears (W), at Panthers (L)
PREDICTION: 9-7, second place in the NFC South
Shockingly, Atlanta's defense doesn't seem to be the issue
While the Atlanta Falcons are in the midst of dealing with a five game losing streak, it's hard to blame it all on the defense. During that span, Atlanta has allowed 21.4 points per game. That's exactly the same as their total points allowed per game on the season, which ranks them No. 12 in the NFL. It's obvious that the defense has started to turn the corner under new head coach Dan Quinn.
The issue? The offensive struggles.
Matt Ryan is having issues with Kyle Shanahan's offense. Ryan has thrown 13 interceptions this season, and is just five away from the most he's thrown in a single season in his career. To make it worse, he's fumbled six times, the most in a season for him.
Devonta Freeman seems like he's the real deal, and the Falcons obviously have a stud in Julio Jones, but finding a locked in No. 2 receiver, with Roddy White getting older, is a must. On top of that, Jacob Tamme has had a solid season, but at 30 years old, Atlanta still needs to focus on finding their future at the position.
UP NEXT: at Panthers (L), at Jaguars (W), vs. Panthers (L), vs. Saints (W)
PREDICTION: 8-8, third place in the NFC South
Search for defensive answers in New Orleans€‹ will roll into the offseason
The New Orleans Saints have intercepted just six passes and have 24 sacks, ranking them No. 27 and No. 22 in those two categories. That's just the beginning, though, as this defense ranks No. 32 in rushing yards allowed per game, No. 31 in passing yards per game and No. 32 in total points per game.
The Saints chose to make a change over to Dennis Allen from Rob Ryan at defensive coordinator, but the Week 13 loss to the Carolina Panthers makes it painfully obvious that there are more changes needed. While the Saints scored 38 points on the undefeated Panthers, it wasn't enough, as their defense allowed 41.
There is some good news for the Saints, as they have a few young rookie defensive playmakers in linebacker's Stephone Anthony and Hau'oli Kikaha, as well as defensive back Delvin Breaux. The start of a strong defense is in place, but the team is going to need to look towards both free agency and the draft to find ways to improve.
While the defense is one cause for concern, another major question is whether Sean Payton will return in 2016. We know Payton can coach, but rumors are out that he may be sent packing this offseason. It's going to be worth monitoring, especially if the Saints struggle to find wins over their final four games.
UP NEXT: at Buccaneers (L), vs. Lions (W), vs. Jaguars (W), at Falcons (L)
PREDICTION: 6-10, last place in the NFC South