New QB, 3 straight losses; it's an uphill climb for Syracuse as it hosts No. 1 Florida State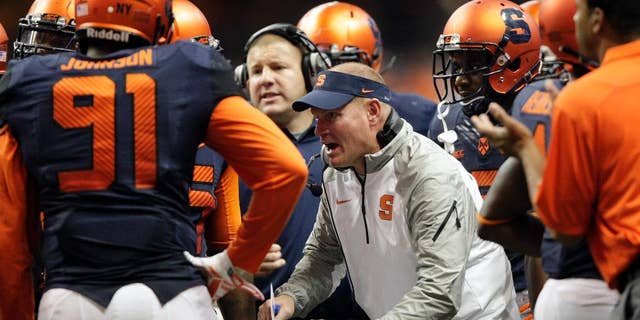 SYRACUSE, N.Y. – Syracuse has a new quarterback and a new offensive coordinator just in time for a visit from top-ranked Florida State.
Not a problem for Orange safety Durell Eskridge.
"I don't have a concern. We just want to play," Eskridge said. "We just want a chance. We just want to show that we can play against anybody. They're very good, very talented, but at the end of the day they're nameless faces just like everybody else that we play. They have talent, we have talent."
Just not as much.
Syracuse (2-3, 0-1 Atlantic Coast Conference) has lost three straight. Florida State (5-0, 3-0 ACC) has won a school-record 21 straight, the longest winning streak in the nation.
The Seminoles demonstrated the big gap between the teams a year ago, beating the Orange 59-3 at Doak Campbell Stadium in Tallahassee, Florida. Eskridge, a Florida native, notched his fourth interception of the season, but it came long after starting quarterback Jameis Winston had departed, his services not needed after leading the Seminoles to a 38-0 halftime lead.
Terrel Hunt started last year's game for Syracuse but is out for at least a month with a broken calf bone. That left Tim Lester, who replaced George McDonald as offensive coordinator early in the week, with a lot of work to do in a very short span of time.
Hunt, a dual threat, will be replaced by a committee that includes backup Austin Wilson, freshman AJ Long and sophomore Mitch Kimble. Wilson has played in two games and is 11 of 20 passing for 89 yards. Long and Kimble have never taken a snap in a college game.
"Unfortunately for us, we have three young guys that are pretty much inexperienced," Lester said. "They're fighting and Hunt is in there watching film with them every day. They're just trying to speed up the learning curve as fast as they can. Depending on what we need, I can see guys being changed out throughout a drive, particularly inside the red zone."
Florida State coach Jimbo Fisher is taking it all in stride.
"We'll have to guess a little bit about how they're going to do things on offense," Fisher said. "We've just got to go and research the history of ... what type of quarterbacks these guys are. It's kind of, I don't want to say routine, but it's kind of more the norm because so many people are doing so many different things."
Some other things to know when Syracuse hosts No. 1 Florida State on Saturday:
YOUTH MOVEMENT: Senior Christian Green will be the only wide receiver in the Florida State rotation that is older than a sophomore if senior Rashad Greene isn't cleared to play after suffering a concussion last week. Jesus "Bobo" Wilson is starting in the slot and coach Jimbo Fisher expects more playing time for freshmen Travis Rudolph and Ermon Lane. Wilson has improved with a combined 10 receptions for 149 yards and two touchdowns in the last two weeks. Rudolph had his first catch two weeks ago and his first touchdown last week. Lane had two catches for 70 against Wake Forest after being shut out the previous two. Those three have to pick up the slack if Greene is out.
STILL COACHING: Syracuse needs all hands on deck for the game and former offensive coordinator George McDonald has been there despite his demotion to receivers coach by head coach Scott Shafer after last week's 28-6 home loss to Louisville.
"There was no conversation. I wasn't very happy. Felt I was blindsided," McDonald said. "I don't want to be a distraction. I'm here to help coach (Tim) Lester in any way that I can to help us beat Florida State and get back on track with the season that we wanted. I may not think the decision was right, I might disagree with it, but I'm here to coach these kids."
KICK ME: Florida State has the ultimate special teams ace-in-the-hole in place-kicker Roberto Aguayo. After setting the national record for points by a kicker (157) en route to All-America honors last year, Aguayo has tied the FSU record with five field goals in a game (last week against Wake Forest) and has established a new mark for consecutive field goals made (21). He's 12 for 12 on field goals this season and has made all 22 PATs to lead the ACC in scoring at 11.6 points per game. For his career, Aguayo has made 33 of 34 field goals and all 116 extra points. He hasn't missed a kick since Nov. 9 last season.
SPIDERMAN: Florida State 6-foot-7 defensive end Lorenzo Featherston has been a terror on the field since entering the rotation two weeks ago. The freshman has 13 tackles, including 4 for loss, one sack, one quarterback hurry, one forced fumble and one fumble recovery. He was nearly unblockable early against Wake Forest. Featherston's height and length shuts down passing lanes, but his athleticism allows him to be a strong and quick pass-rusher instead of a lanky end that's easily blocked due to leverage problems.
NUMBERS PLEASE: Since the start of The Associated Press poll in 1936, Syracuse is 1-8 against the AP's top-ranked team, the lone victory coming against Nebraska (17-9) in the Carrier Dome in 1984. Saturday's game against Florida State marks the second time the Orange will play the Seminoles when FSU has been ranked No. 1. In 1991, Syracuse traveled to Tallahassee and lost 46-14.
___
Associated Press writers Kareem Copeland in Tallahassee, Florida, and Mark Frank in Syracuse, New York, contributed to this report.
___
Follow Kekis on Twitter at http://www.twitter.com/Greek1947