New England natives on Boston, Montreal rosters bask in chance to play at Gillette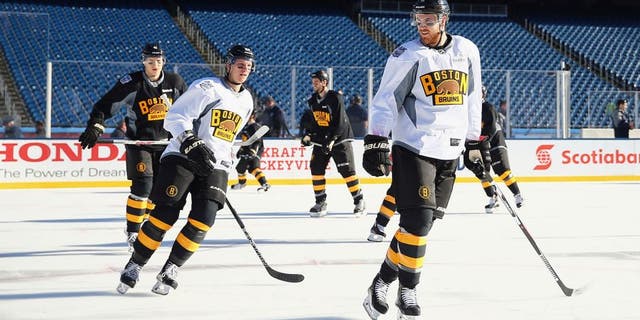 NEWYou can now listen to Fox News articles!
When P.K. Subban, a native of Toronto, walked into a press conference Thursday at Gillette Stadium the day before the NHL Winter Classic clad in a three-piece suit and a newsboy cap, the Canadiens defenseman jokingly said he dressed up in the hopes of meeting New England Patriots quarterback Tom Brady.
"I was told [Brady] was going to be in here," Subban said to a chorus of laughter from the media. "No, I'm kidding. You know, Tom, I just have so much respect for him as an athlete. I was hoping to bump into him today in the hallway. I was probably going to jump on him or something like that.
"But he's a legend. Just to play in this stadium is something special. I know for guys like [goalie Mike Condon] and [Brian Flynn] who are from Boston and the Boston area here, they understand kind of the history here. But a player like Tom Brady is special."
So if Subban is slightly in awe of playing at Gillette, imagine how much stronger the feeling is for the five players between the Boston and Montreal rosters who are New England natives. The Canadiens boast three in Condon, a native of Holliston, Massachusetts; Flynn, from Lynnfield, Massachusetts; and captain Max Pacioretty, who is from New Canaan, Connecticut. The Bruins have two New England men in forward Jimmy Hayes and rookie Frank Vatrano, who hail from Dorchester and East Longmeadow, Massachusetts, respectively.
When Hayes and Flynn take the ice at Gillette on Friday, they will share the honor of having played hockey at the homes of all four major sports teams in Boston. Hayes, a former Boston College hockey player, played a college game against Boston University at Fenway Park in 2010. Flynn was captain at the University of Maine when the Black Bears took on the University of New Hampshire at Fenway in 2012, and scored the game-winning goal in overtime.
"It's pretty cool to get a chance to play in this," Flynn said following Canadiens practice. "I'm a big Patriots fan and also a Red Sox fan, and I played at the TD Garden, too, so I kind of covered all the bases."
Vatrano has yet to play any other Boston sports stadium other than the TD Garden, but he has attended a few Patriots games over the years. The overlap in football and hockey schedules makes attending NFL games difficult for any NHLer, however. Flynn said he had more luck seeing the Patriots play in Buffalo when Flynn was still a member of the Buffalo Sabres than actually going to regular-season games at Gillette.
All five players noted that their family and friends are, naturally, excited to watch their sons or brothers or cousins play in such a marquee NHL event so close to home. Vatrano has seven family members coming to the game, while Hayes bought a row of seats for his family and friends.
Tickets were harder to come by for the Flynn family. Flynn's father is one of 11 children in a large, classic Irish-Catholic clan. And since each sibling ended up having three or four kids apiece, Flynn's entire family could not squeeze into the maximum 14-ticket package offered to players for their families.
Pacioretty's Connecticut-based family will have a longer drive to the rink than the four Massachusetts-based players, but the Canadiens captain said having his loved ones in attendance will make the Winter Classic sweeter nonetheless.
"It's very special for me with a lot of friends in the area still," Pacioretty said. "Obviously, this is the biggest stage I've played on. Whenever the Winter Classic is on, you always watch it. So we know everybody, not just friends and family, but everyone across the country and even the world will be watching. To be able to do this so close to home and have people just drive up and enjoy the game, it's very special to me."
Hayes and Vatrano noted that as Patriots fans, there was extra excitement over getting the chance to meet the Patriots before they left for their final regular- season game in Miami against the Dolphins Sunday.
Hayes had met coach Bill Belichick before, as the coach is good friends with Hayes' college coach Jerry York, and Belichick came to visit BC while Hayes was a student.
"It was my sophomore year. He came and he's a great guy," Hayes said. "He's obviously an icon in this city. People look up to him and he's been very successful. He's a guy that a lot of people admire."
The Canadiens had less luck with the Patriots, as Belichick and the Patriots only visited the Bruins' locker room. Condon did not get to meet the New England coach, despite having an image of Belichick painted on his mask.
Though Montreal forward Brendan Gallagher had a close encounter with Tom Brady. And nearly spoke to him. Sort of.
"Tom Brady walked by me, but I was too chicken to say anything," Gallagher said. "So I just watched him walk on by."
Still, a Brady sighting would be enough to likely make Subban jealous. But for perhaps the only time ever, the focus at Gillette Stadium will not be on the Patriots QB. Instead it will be on the boys who once sat in the stands at Gillette Stadium or watched the Patriots from home, now taking the ice on that same field as hockey players.
"Who would have thought I'd be able to play a hockey game at Gillette," Hayes said after practice, the excitement clear in his ear-to-ear grin.