New coach, same story: Blue Jackets lose in Tortorella's debut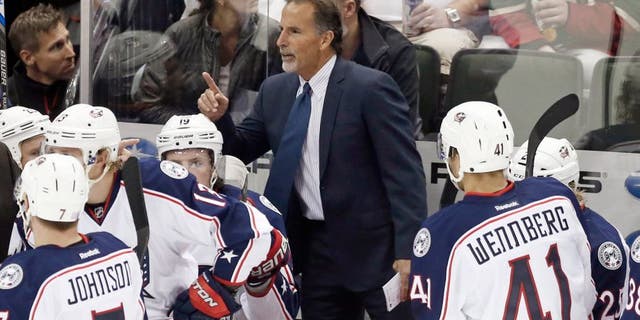 Expecting a strong effort from the Columbus Blue Jackets in coach John Tortorella's debut, Minnesota didn't bring its own initial push.
The Wild recovered in plenty of time. Thomas Vanek scored the go-ahead goal in the second period, and Minnesota beat Columbus 3-2 on Thursday night, pushing the Blue Jackets to 0-8-0.
Columbus' start is the worst season-opening regulation losing streak in the NHL since the New York Rangers started 0-11-0 in 1943-44. Tortorella took over as coach Wednesday after Todd Richards was fired.
"That was all the talk before the game, `New coach, they're going to be coming hard. We got to weather the storm,'" Minnesota defenseman Ryan Suter said. "You worry about that, I think, too much, instead of focusing on going out and taking it to them."
Outshot 13-6 in the first period and trailing 2-1, the Wild scored twice in the second period to improve to 4-1-1.
Zach Parise tied the league lead with his sixth goal to open the scoring. Nino Niederreiter and Vanek scored in the second, and Devan Dubnyk made 27 saves for his fourth win in five games.
"I just feel like we talked so much about how hard they were going to come out and how hard they were going to play, I don't know if we psyched ourselves out or what but it was a pretty ugly start for us," Parise said. "But we were able to turn the page and be a better team in the second period."
Alexander Wennberg and Brandon Dubinsky countered for Columbus. Sergei Bobrovsky made 20 saves for the Blue Jackets. They held an opponent to fewer than four goals for the first time this year.
"We're 0-8; moral victories aren't going to help us right now," Tortorella said. "But for a number of minutes I thought we played hard. I thought we won battles on the wall, played the way I think we're going to have to play to get us out of this, but we come up empty as far as points."
Minnesota was hoping for this sort of scoring from Vanek when it signed him prior to last season. The former Minnesota college star scored 21 goals last season, his lowest output in a full season. Vanek surpassed 300 NHL goals earlier this season.
With Columbus' Cody Goloubef off for two minor penalties, Vanek redirected a pass from Jason Zucker past Bobrovsky -- the Jackets goaltender has allowed 26 goals in six games this season.
Tortorella was hired as coach for the fourth time after previous stints with Tampa Bay, the New York Rangers and Vancouver. Tortorella said earlier in the day that he had consulted the team's media guide to learn about his new players.
"He's demanding," Jackets forward Nick Foligno said. "You can hear him on the bench. But he's teaching, too. You can hear it. It's going to be a work in progress for all of us, but I liked what I saw."
Parise got his goal when he drove the net and scored on a centering pass from Suter 5:04 into the first. Parise and Suter will likely be key members of the U.S. team in the upcoming hockey World Cup, which will be coached by Tortorella.
Notes: In its two previous games, Minnesota had faced the Los Angeles Kings and Anaheim Ducks, who were each winless at the time. The Wild lost in overtime to Los Angeles and fell 4-1 in regulation at Anaheim. . Parise's sixth goal is the most he's scored through the first six games of a season in his NHL career. His previous best was five goals in six games to start the 2012-13 season, his first as a member of the Wild. . Tortorella is 446-375-115 (.538) in his previous four stops, winning the Stanley Cup in 2004 with Tampa Bay.