NBA teams looking to copy the Spurs' success are finding a nearly impossible path to follow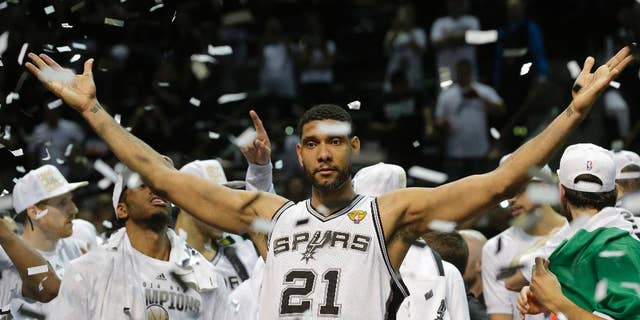 The unselfishness, the ball movement, the cohesion, the stability.
The San Antonio Spurs have long been the envy of the NBA, the league's model franchise and one of the standard setters in all of professional sports for sustained success.
As training camps across the league start opening this weekend, the line of teams trying to duplicate their model has never been longer. The Spurs are returning as champions for the fifth time in their history, with no run more impressive than the one they put on in last year's postseason that ended with them dismantling the two-time defending champion Miami Heat and dethroning King James.
That performance further validated the Spurs' long-held approach to team building and strengthened their influence on the league around them. But what teams have discovered over the years as they try to uncover San Antonio's secret to success may be more demoralizing than the beatings they receive from Tim Duncan, Tony Parker and Manu Ginobili: In a copycat league, the Spurs may be copy-proof.
Coach Gregg Popovich and general manager R.C. Buford have become masters at roster construction, combing the globe to find not always the most talented players, but the players that will fit their system the best. Owner Peter Holt has established a power structure that makes it clear that the authority lies with Buford and Popovich and not with the players. The Spurs' All-Star trio has sacrificed some financial gain to stay together in a smaller market.
"They've been together 12 years," Suns coach Jeff Hornacek said of the Spurs' Big Three. "It'd be great to have that San Antonio pattern, but I'm not sure it's ever going to happen again because you've got a guy like Tim Duncan, who has taken less money. Ginobili took less money, Tony Parker has taken less money and it's allowed them to do other things to bring those pieces in.
"If you can find guys to do that, then you've got a chance. But I think that's getting harder and harder."
Like any of the best teams, there are multiple reasons the Spurs have been able to stay at or near the top for so long. But Popovich typically points to one above all others, as he did during last season when asked for the secret formula.
"Yes, there is. Get the No. 1 pick in the draft every 10 years and make sure that it's a franchise player. That's the formula," he deadpanned. "That's how lucky you have to be. You've got David (Robinson) for a decade and then Timmy comes. Well, I think most anybody could build around that."
Ask around the league, and they agree. Duncan is the superstar who doesn't have eyes for a bigger market, who doesn't mind being coached hard in practice, who doesn't care if his stats aren't on top of every NBA leaderboard.
"The real key is can you find that kind of person that will allow you to build your culture like that?" Milwaukee Bucks GM John Hammond said. "I think a lot of people are trying to copy that."
"What people want to copy is the philosophy," Timberwolves coach and president Flip Saunders said. "We're all trying to do that. We're all trying to play great basketball. Your main guy is the guy that sets the tone for that. In every organization that is successful, they all have that one guy that can do that. And they also have the guy that is a dominant player, that can dominate and take you where you need to get, whether it's scoring down the stretch, defending down the stretch, whatever you need to do."
Forever and ever, Duncan has been that guy. But he's also found willing sidekicks in Parker and Ginobili who are on the same page. That combination, coupled with Popovich's game-planning and Buford's tireless scouting give the Spurs elite talent at every level of the organization.
Yet for all of the Spurs' lasting success, they had gone seven years without winning a title before last season. That allowed some in the league to wonder if the Spurs Way was still working as well as it had when they won three championships in five years from 2003-07.
Their dominant run last season ended any of those whispers, and has some old-school basketball aficionados hoping that a new day is upon the league.
Hall of Famer Isiah Thomas said he thinks the NBA faced a problem beginning in the 1990s, when its game was no longer marketed and promoted as a team sport.
"With San Antonio winning, I'm hoping we will go back to promoting teams and the concept of team play, which we all saw was such a beautiful way to watch the game and explore the game and see the game," Thomas said. "Even though they had exciting individual plays within the contest, the team play and the beauty of team philosophy definitely, in my opinion, is much more appealing the eye to watch than just the individual dominance."