NBA Summer League recap: Nuggets 88, Timberwolves 82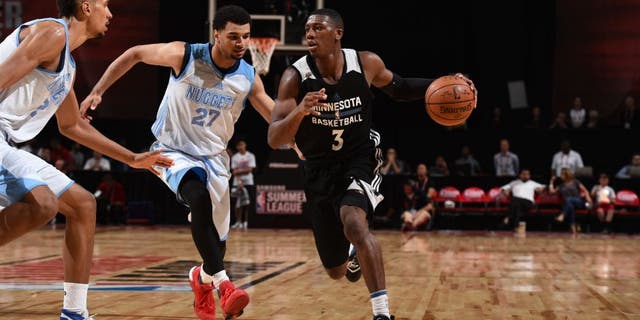 NEWYou can now listen to Fox News articles!
First-round draft pick Kris Dunn scored a game-high 27 points, but the Minnesota Timberwolves lost their summer-league opener 88-82 to the Denver Nuggets.
Dunn, the fifth-overalll pick last month, was 10-for-18 from the floor (1-for-2 from 3-point range), while grabbing five rebounds and dishing two assists. The 22-year-old guard out of Providence scored 10 of Minnesota's 12 fourth-quarter points.
The Timberwolves led by 11 after the first quarter, seven at halftime and three heading into the fourth. Denver began the final quarter with a 9-0 run.
Denver's 2015 first-round pick, Emmanuel Mudiay, led the Nuggets with 23 points and added eight rebounds and six assists. Garry Harris added 22 points.
Starting five: Minnesota started Tyus Jones and Dunn in the backcourt and Xavier Silas, Adreian Payne and Jarrid Famous in the frontcourt.
Draft-pick report: Dunn, the two-time Big East Player of the Year, made social-media waves for his crossover of JaKarr Sampson in the third quarter. He played a team-high 34:38 but finished with seven fouls. . . . Jones, the 24th-overall pick last year, had 12 points, a game-high 10 rebounds and four assists in 33:20.
Stat corner: Minnesota shot 41.1 percent, including 66.7 percent from the free-throw line, while Denver shot 43.5 percent and 65.7 percent from the line. . . . Payne took a game-high 20 shots, making six of them and finishing with 17 points. . . . The two teams were even in fouls (26 each) and nearly even in rebounding (Denver 53, Minnesota 50) and turnovers (Minnesota 12, Denver 11).
Next: The Timberwolves return to action at 5 p.m. Sunday vs. the Toronto Raptors.