NBA Summer League recap: Kings 69, Bucks 65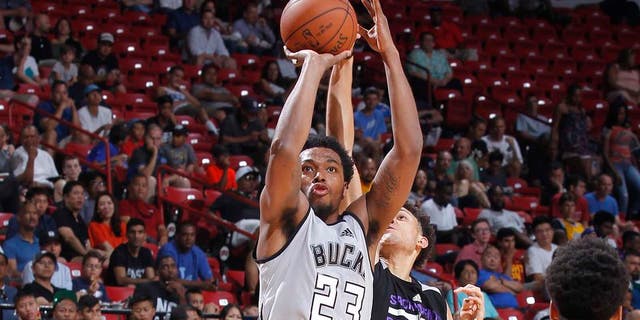 The Milwaukee Bucks were outscored 21-16 in the fourth quarter, leading to a 69-65 low-scoring loss to the Sacramento Kings in the first game of the NBA Summer League tournament in Las Vegas.
Milwaukee had a 61-55advantage with just over four minutes to play, but the Kings went on a 15-4 run to finish the game.
Three Bucks finished in double figures: Sterling Brown (12 points), Rashad Vaughn (12) and Gary Payton II (11).
Vaughn struggled from the field (4 of 18) and sunk just one of seven attempts from the 3-point line.
Reggie Upshaw Jr. grabbed seven rebounds off the bench to lead the Bucks. Former Wisconsin Badgers guard Bronson Koenig had six points in 14 minutes.
Starting 5: Milwaukee started Brown, D.J. Wilson, Tim Kempton, Vaughn and Payton.
Rookie report:Second-round pick (acquired from the 76ers) Sterling Brown finished with 12 points, six rebounds, four assists and three steals in 26 minutes. First-round pick D.J. Wilson had two steals, five rebounds and seven points on 3-of-11 shooting. Two of his seven points are worth watching:
Stat corner: The Bucks had 27 rebounds as a team, just five more thanSacramento's2016 first-round picks Skal Labissiere and Georgios Papagiannis combined (22).
Next:Milwaukee plays Friday at 5 p.m. against the Utah Jazz. Utah lost 97-81 to the Phoenix Suns in the first round on Wednesday.