NBA star Ray Allen says he was 'catfished,' asks court to throw out stalking case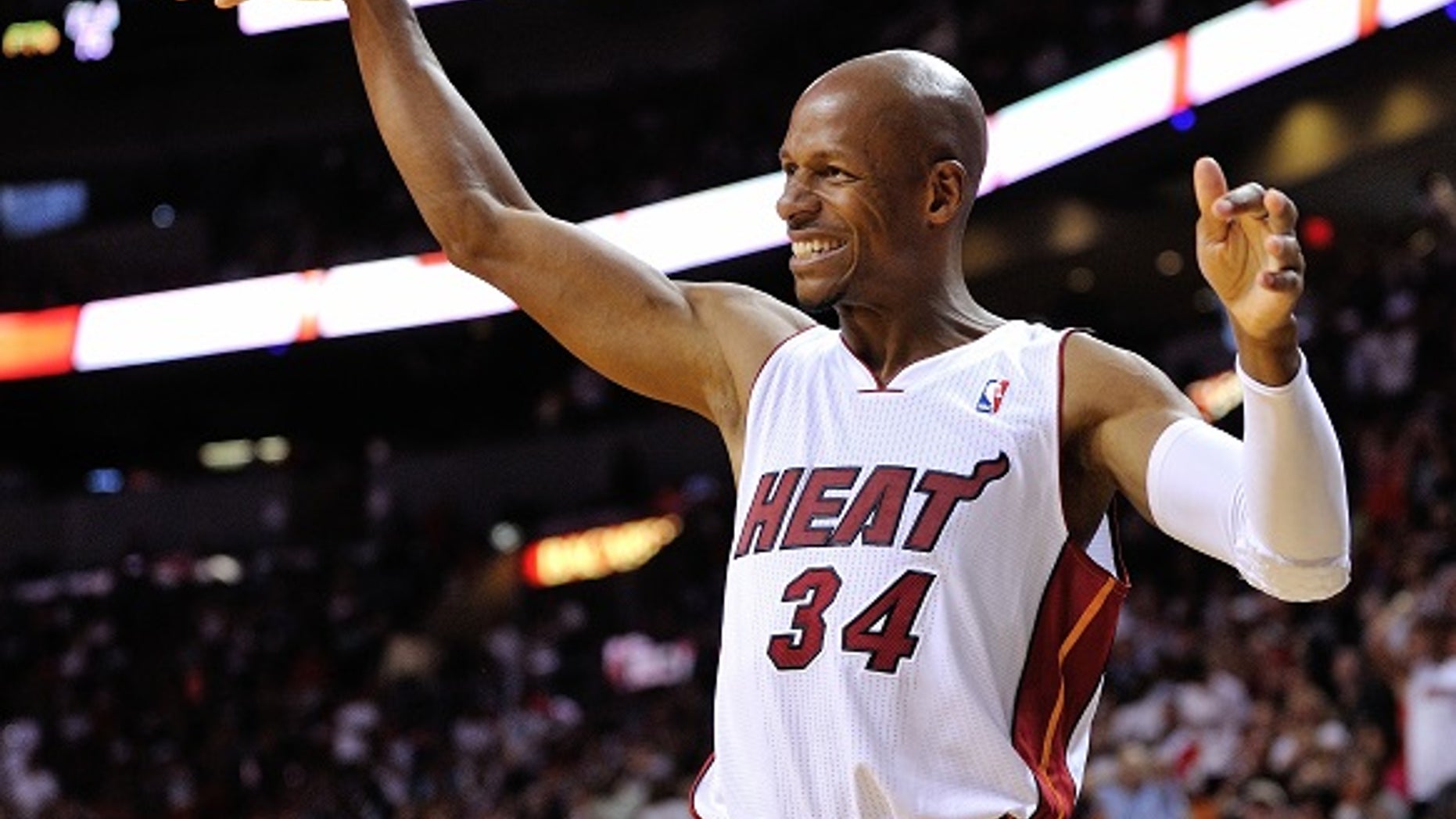 Retired NBA star Ray Allen said he was a victim of "catfishing," and asked an Orlando court to throw out a case in which he's accused of stalking someone.
Allen filed an emergency motion in Orange County, Fla., on Tuesday, one day after Bryant Coleman told the court he was being stalked by the 10-time All-Star and two-time NBA Champion.
Allen, however, alleged Coleman was the one who was stalking him.
"Coleman pretended to be a number of attractive women interested in Ray Allen," stated the motion filed on Allen's behalf. "Ray believed he was speaking with these women and communicated with them."
Allen, 42, decided to take legal action in order to stop the threats made against him and his family, and that the NBA star was the victim "of an online scheme to extract money and embarrass him by someone who appears to be troubled," Allen's attorney David Oscar Markus wrote in a statement to The Associated Press.
FORMER ATLANTA BRAVES GM JOHN COPPOLELLA GIVEN LIFETIME BAN FROM BASEBALL
Allen claimed Coleman threatened to reveal details of their conversations, and said the sides eventually struck a deal to keep everything private. Allen said that deal was violated and Coleman has continued to harass Allen and his family through several social-media accounts.
"He posted about Ray's wife, Ray's children, Ray's dog, Ray's homes, Ray's wife's restaurant, and numerous other personal items," the motion stated. "Coleman not only posted about these things, he would actually post while physically located inside Ray's wife's restaurant in Orlando. And he would make sure they knew it, tagging Ray and his wife on those posts."
Allen and his wife, Shannon Walker Williams, were married in 2008. Williams opened up her restaurant in 2016, The Washington Post reported.
Allen asked the court to stop Coleman from "cyber-stalking."
It was not clear if Coleman had an attorney.
WIFE OF RAIDERS' HEAD COACH SAYS TRUMP'S TWEETS ON NFL MAKES HER REGRET EARLY SUPPORT, REPORT SAY
Markus claimed Allen regretted speaking with Coleman to begin with and was "thankful they never met in person."
Allen is the NBA's all-time leader in 3-pointers made. He won championships with the Boston Celtics in 2008 and the Miami Heat in 2013, the second title coming after he made one of the most dramatic shots in playoff history — a game-tying 3-pointer with 5.2 seconds left in regulation of Game 6 of The Finals against the San Antonio Spurs, a game the Heat would win in overtime to extend the series to a seventh game.
Allen also played for the Milwaukee Bucks and the Seattle Supersonics, and last appeared in the league in 2014. He and his family have lived in the Miami area since he retired.
The Associated Press contributed to this report.