NBA Round-Up: Kobe Bryant Sounds Off on Gasol, Brook Lopez, & Knicks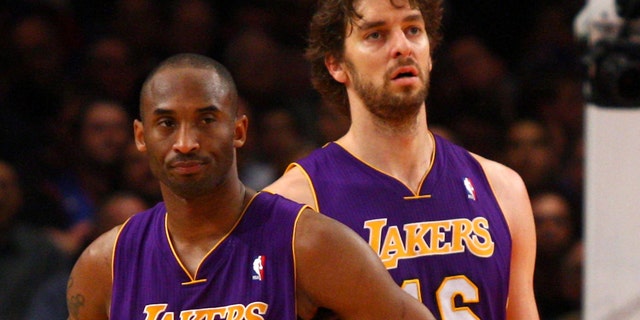 Upset Kobe Wants Pau Gasol on Lakers
Kobe Bryant is tired of the 'will Pau Gasol get traded or not talks' that hover over the Los Angeles Lakers on a daily basis and would like the team to say where they finally stand on the Spanish forward's status.
"I wish [Lakers] management would come out and either trade him or not trade him," Bryant told reporters after Sunday loss in Phoenix. "It's just tough for a player to give his all when you don't know if you're going to be here tomorrow. I'd rather them not trade him at all but if they're going to do something, I wish they would just ... do it."
Gasol was well on his way to Houston days with Lamar Odom going to New Orleans and Chris Paul landing in Los Angeles before the NBA squashed the deal.
Instead it was the Clippers that got Paul, Odom demanded to be traded and ended up in Dallas for basically nada and Gasol consumed the rumor chatter.
Bryant made it clear. If you are going to get rid of Gasol "do it" if not say you won't.
"If they're not going to do it, come out and say you're not going to do it. This way, he can be comfortable and go out and can perform and play and he can invest all of himself into the game. You can't have one of our pillars not knowing if he's going to be here or not. Do something. One way or another, do something."
Nets Big Man is Back
The struggling New Jersey Nets got Brook Lopez back on the floor for the first time this season last night. Lopez broke his right foot before the season started and played 22 minutes after missing the team's first 32 games.
Lopez admitted he was rusty out on the court but was excited to finally play for the Nets team. He scored nine points but shot only 5 of 11 from the free throw line and grabbed two rebounds.
"It felt good. My arch was a little sore, but I think that was just the orthotic. It was just exciting to be out there playing with the guys," said Lopez, who felt much better after switching shoes.
Lopez said he wanted to be out there longer during the game but trusted coach Avery Johnson's decision to bring him back along slowly. He joked that he would try to sneak into today's game against the New York Knicks. He will sit out the game at The Garden and then make his second appearance against the Orlando Magic, perhaps a showcase for the Magic who are desperately trying no to trade Dwight Howard.
Mexicana Flight Attendants Turned Calendar Girls Feud after Success
The 9-24 Nets are in 7.5 games back of the eighth and final spot being held by the Knicks. Still, Lopez thinks that reaching the playoffs is not a far fetch idea.
"I definitely think that's a possibility. There's no question that's our goal. We're taking it a game at a time. We want to pick up this next one. I think we all just need to bring it to a consistent level," Lopez said.
Garcia and Kings Still "Exploring"
You can have all the talent in the world on a team but if no one is up to playing together and buying into the team's philosophy, it always turns out to be a long season.
That's just the case for the Sacramento King, a team with a talented group of players yet inconsistent throughout the season. The only consistency has been the losing streaks that they have gone through
this season.
Francisco Garcia has spent all of his six years in the league with the Kings after getting drafted in the first round of the 2005 NBA Draft. He's still hasn't sniffed the playoffs.
To be frank about the situation, the franchise is a mess. The Maloofs are losing money and are simply cash strapped. They almost bolted for Anaheim before deciding to stick around in Sacramento as they try to get the city to approve funding for a new arena.
So aside from all of that, why is this team 10-21 and at the bottom of the Western Conference?
"The youth," Garcia told Fox News Latino. "We still don't know how to play together. We still have to be out keep on exploring."
"In reality there's talent but what need to happen is that we just need to know how to play as one and know how to treat each other."
Gisele Bundchen: From Victoria's Secret to NFL Wife
Garcia can hit 3-point shot and defend out on the floor. He certainly could step in and help out a team that has a playoff shot but did not say whether or not he was seeking a trade.
"In reality that's something that you don't know but they haven't told me that they want to trade. If it happens, this is a business," he added.
"I have to talk to my agent after the all star break to see what happens. For now I will keep my head up and when they give me time on the court, I will keep competing."
Give Melo an Assist For Recruiting
Give Carmelo Anthony an assist for getting his buddy, J.R. Smith to sign with the Knicks after rumors had it that the Knicks latest addition for their championship quest would sign with either the Clippers or Lakers.
Smith, who grew up in New Jersey, debuted for the Knicks yesterday in their impressive win over the defending champions, Dallas Mavericks, on a national stage.
Mike D'Antoni was sure he was going to play Smith but he did and Smith responded by scoring 15 points, hitting four 3-pointers.
Smith said that Anthony, who is the godfather to one of his two daughters, sold him on coming to the Knicks.
"Melo really sealed the deal for me. Chris Paul and Melo are the godfathers of my two daughter. But once I talked to Melo, he told me what kind of atmosphere it was here and it sealed the deal 100 percent," Smith said.
Introducing Mexico's First High-Performance Sports Car
The Rest Represent
Ricky Rubio tallied 20 plus points in a game for the first time in over four years last night in Minnesota's win over the Sixers. Rubio scored a career-high 22 points and had six rebounds and five assists Rubio was just 17 years old when he dropped 20 points back in November 2007 for DKV Jovenut against Akasvayu in a ACB Spanish league game.
Adry Torres, who has covered MLB, NFL, NBA and NCAA basketball games and related events, is a regular contributor to Fox News Latino. He can be reached at elpiloto137@gmail.com or follow him on Twitter: @adrytorresnyc.
Follow us on twitter.com/foxnewslatino
Like us at facebook.com/foxnewslatino