NBA Round-Up: Lin, Gasol Upset, & Ginobili is Back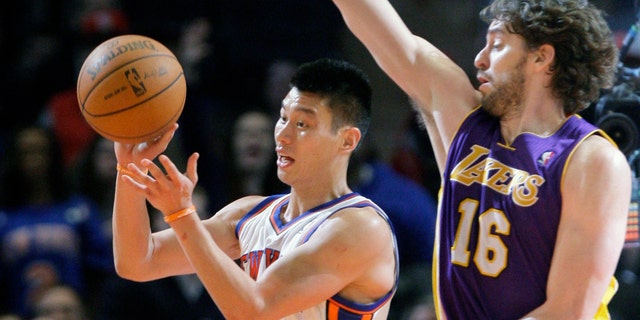 A weekly wrap up of the best Latino headlines in the NBA.
Lin Fills Void
Who needs Carmelo Anthony when you have Jeremy Lin? Lin has revived the Knicks as of late and has led them to five straight victories since taking over the point guard position.
Ok, we might be going to far there but Lin has defied the odds for a player who was undrafted, not given a chance and waived.
While many in the media thought the glass shoe would have came off right now, Lin has continued to excel in Mike D'Antoni's system.
Before Lin took over, the team was a complete mess, having lost 11 of 13 and were a disappointing 8-15.
The guy is no scrub. In the five games since he's become part of the rotation, he started the last four, Lin has averaged 39 minutes and 26.8 points while tallying 40 assists but 23 turnovers. He has been active on defense with 10 steals.
The Knicks will have Amar'e Stoudemire back on the team for tomorrow's game at Toronto and Anthony, sidelined with a groin injury, as soon as next week.
It will be interesting to see how those two stars, who demand the ball a lot, adjust to playing with a point guard who will have to control the offense -- something the team had been lacking all season long.
Lakers Need Improvement
After the Lakers had just been shredded by the Jeremy Lin show, a disappointed Pau Gasol said the Lakers couldn't afford to lose games with the roster they had and warned of similar results if they didn't compete.
"If you don't come out ready to compete, ready to play and control the game with the team that we have and the players that we have, you know we are going to be in trouble," Gasol said on Friday night after losing to the Knicks. "We got to make sure we control games with our experienced players and our quality players."
The Lakers managed to escape Toronto yesterday, beating the Raptors 94-92 after having led by 18 points.
Forced out of the Staples Center because of last night's Grammy Awards, they finished the road trip at 3-3. The Lakers are now 5-10 away from home this season.
Yesterday, according to a report on Yahoo! Sports, the Lakers attended a private workout for Gilbert Arenas, who could give the team's offense a lift in their backcourt especially at the point.
Steve Blake has been injured this season and Derek Fisher isn't the same player anymore.
The Lakers have been rumored to go after Cleveland's Ramon Sessions and even the name of Boston's Rajon Rondo has popped up. But to get something you have to give something up.
According to a report on ESPN, they have also expressed interest in Allen Iverson, but he would have to play in the NBA D-League for a few weeks first.
Manu Back After Breaking Hand
Manu Ginobili made his first appearance Saturday night for the San Antonio Spurs in Newark since breaking his left hand on Jan. 2.
Ginobili said he was happy to be on the court after being out for 39 days. During that stretch, the Spurs went 15-7 without their Argentine star.
Ginobili even joked afterward saying that he was ok when passing through the security detectors at the airports, referring to the six screws in his hand.
The 34-year-old knows he is still not ready, conditioning and basketball wise. He had eight points, making 4 of 7 shots from the field and missed both of his 3-point attempts in 17 minutes of action as the Spurs beat the Nets.
"I'm very happy to be back, first of all, after 40 days almost. Conditioning wise, I'm behind. Basketball wise, I'm behind. I know the only way to get back is to play," Ginobili said.
"I was a little worried about today because the situation was kind of awkward - (a) six-game winning streak, playing a team that's not doing well, me coming back. So I was a little worried. Once I saw the game, that we were going to get a win, I loosened up a little bit and I could enjoy (it) a little bit more."
Nets Center Close to Return
Brook Lopez pronounced himself ready to participate in a practice with the team after having missed all of the season after breaking a bone in his foot during the team's last preseason game.
"I don't think there's anything (left to do)," Lopez told reporters on Friday. "We just have to keep putting it together and keep trying to get into shape and the next opportunity at practice, hopefully I'll be able to participate."
Lopez could return as early the first game after the NBA All-Star break.
Adry Torres, who has covered MLB, NFL, NBA and NCAA basketball games and related events, is a regular contributor to Fox News Latino. He can be reached at elpiloto137@gmail.com or follow him on Twitter: @adrytorresnyc.
Follow us on twitter.com/foxnewslatino
Like us at facebook.com/foxnewslatino