NBA legend Jerry West reportedly leaving Warriors to join Clippers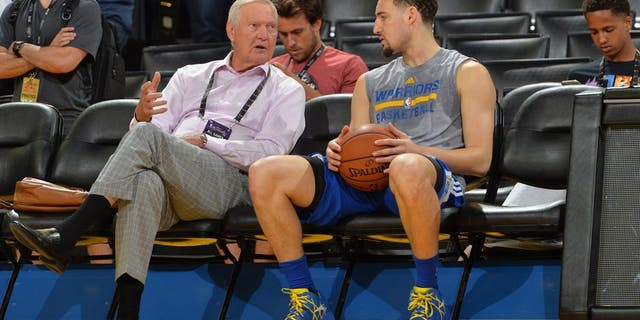 NEWYou can now listen to Fox News articles!
Jerry West once threatened to quit his job as a special consultant with the Golden State Warriors if the team decided to trade Klay Thompson for Kevin Love. Three years later, The Logo reportedly is leaving Oakland not out of animosity, but to take on a new challenge.
Sports Illustrated's JackMcCallum first reported West has decided to accept the Clippers' offer to serve a similar role in Los Angeles. The news came late Wednesday, the same day word leaked that the city of Inglewood would vote on a proposal to allow the Clippers to explore building a new arena.
L.A.'s two biggest stars, Chris Paul and Blake Griffin, will be free agents this summer after they exercise their player options, and hiring West could help convince one or both to return to the Clippers next season. The fact that Steve Ballmer's team can offer more money than any other team should help, too.
The question will be how much influence West has on Doc Rivers, who serves as head coach and president of basketball operations, as well as vice president of basketball operations Lawrence Frank. For all his coaching prowess, Rivers has struggled as an executive to flesh out the rest of the roster around the Clippers' "Big Three." If Rivers isopen to West's advice, maybe Paul and his squad can break through to an elusive conference finals appearance.