NBA legend Jerry West on joining the Clippers: 'I just want to win'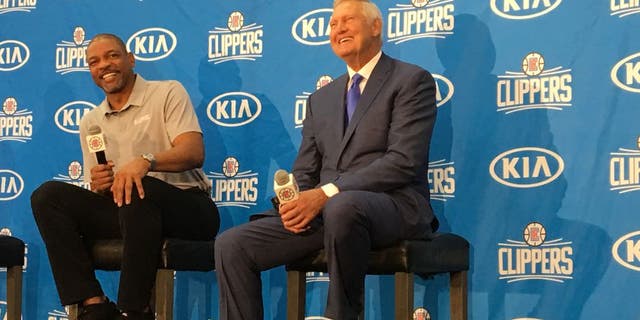 NEWYou can now listen to Fox News articles!
Jerry West was sad.
As the Golden State Warriors celebrated their second NBA title in three seasons last week, West, a now-former member of the Warriors'Executive Board, knew he was likely leaving the team behind.
But West's sadness ended evaporated after talking with eccentric Clippers owner Steve Ballmer.
"I am sold on the ownership here. I think they want to establish their own identity in this town, and that is what to me is most important. Establish their own identity and ability to win at the very highest level," said West.
The Warriors loss is the Clippers' gain … big time! On Monday, the team introduced the NBA Hall of Famer as a consultant.
"I'm here to try and help make a difference," West added.
West's resume is as impressive as they come … he is, after all, the NBA logo. An eight-time NBA Champion as an executive and coach, as well as, one title (1972) as a player with the Lakers, Westwasa 14-time NBA All-Star and a Gold Medal Olympian.
Additionally, he ranks 24th on the NBAs all-time scoring list (25,192 points).
As an executive, West was instrumental in putting together the Lakers and Warriors teams which won multiple titles. West, ever so humble, diverted the praise … saying only he 'had a hand' in the success.
"This just another great example of the commitment that Steve Ballmer has allowed the organization, Doc Rivers and me to add someone like Jerry West,"said Clippers Executive Vice President of Basketball Operations Lawrence Frank in a release. "What Jerry has done is unmatched in NBA history, and he will bring great value."
West said he will take the next two weeks to evaluate the current Clippers roster and offer up his thoughts to Frank and coach Doc Rivers. West knows the importance of re-signing The Big 3, but did not go into details on his plans to make it so.
"When I took the job as president of this organization, one of the things I said we're going to do is be world class in everything," said Rivers. "Our organization has to be world class. We want our team to be the best in service as well. Today is a great step for us."