NBA informs teams 2016-17 salary cap will rise even more than expected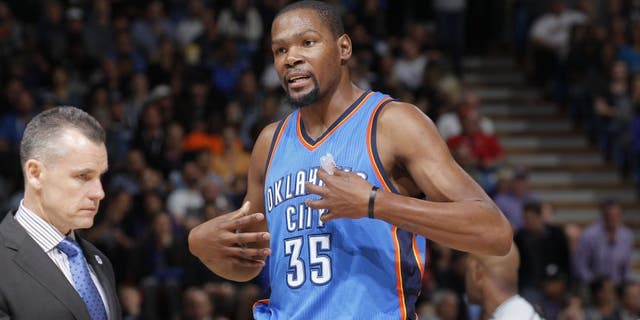 NEWYou can now listen to Fox News articles!
We've known that the NBA's salary cap would be spiking in advance of the 2016-17 season for quite some time, thanks to the extremely lucrative broadcast rights deal the league secured in October 2014.
But with the Basketball Related Income (BRI) audit date of July 6 rapidly approaching, the NBA (via Shams Charania of Yahoo Sports) sent a memo to teams stating that the cap number for next season will be increasing even more than initially projected:
The NBA has informed all 30 teams that the salary cap for the 2016-17 season is projected to be $94 million, higher than its previous estimates, league sources told The Vertical.
The NBA's projected salary cap and tax level of $94 million and $113 million, respectively, have increased since the previous estimates done by the league and its players' union.
The new number of $94 million represents a year-over-year increase of more than 34 percent and is up from the league's previous projections of $92 million in April and $89 million last year. The salary cap for the 2015-16 season was $70 million.
The salary floor, or the minimum amount teams will need to spend on payroll next season, is now $84.6 million. There's no penalty if a team falls short of spending that amount; in the event that occurs, the team simply cuts a check for the rest and those dollars get divided among the players who finish the season on the roster.
The sudden influx of cash means all 30 teams will have money to spend in free agency, which will translate into some shocking salary figures for players who wouldn't previously have been considered worthy of such contracts.