National Hug Day evokes bad memories for Dodgers' A.J. Ellis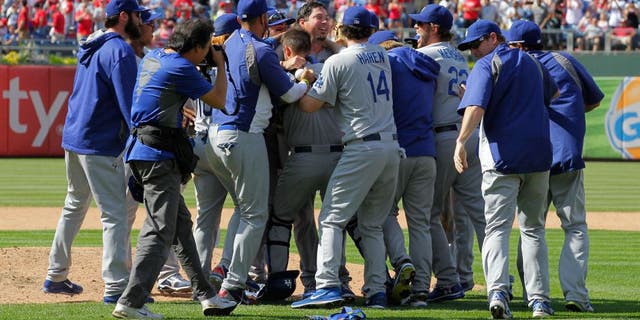 National Hug Day is a fun-spirited day designed to unite people, but for Los Angeles Dodgers catcher A.J. Ellis, it ended up reminding him of some bad times -- with the "help" of his teammate, of course.
In celebration of National Hug Day, a fan sent a photo to Ellis of him and ace Clayton Kershaw embracing after Kershaw pitched a shutout in San Francisco to clinch the NL West division title last season.
Ellis retweeted the photo to his followers, admiring Kershaw's ability to hold him -- a "230-pound(ish) giddy schoolboy," in his own words -- after pitching nine scoreless innings.
Dodgers third baseman Justin Turner seized the otherwise fuzzy moment as an opportunity to taunt his teammate -- because, well, that's what athletes do.
Turner is referring to an unfortunate incident that Ellis would rather forget.
While celebrating Josh Beckett's no-hitter on May 25, 2014, Ellis stepped on the catcher's mask of the day's catcher, Drew Butera, and sprained his ankle, which sidelined him for three weeks.
Ellis had some fun with Turner's conjuring of his unflattering incident, blaming Butera, who is no longer with the Dodgers.
Well, that was a successful celebration of National Hug Day -- with no sprained ankles, thankfully.