Murray meets his comedy muse, Djoko doing fine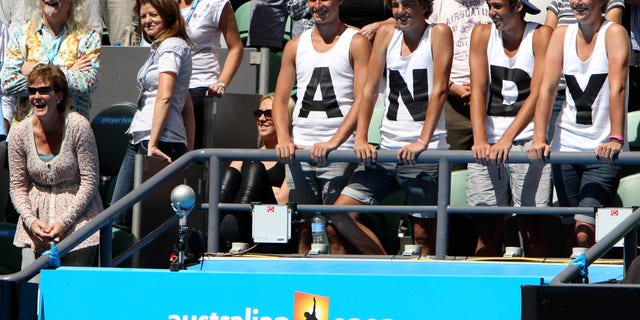 MELBOURNE, Australia – Andy Murray fondly recalls long family road trips from Scotland to England, listening and laughing to cassettes of irreverent Scottish comedian Billy Connolly.
That was back when Murray was a young lad. On Monday, Connolly sat in the stands and cheered Murray on as he moved into the Australian Open quarterfinals. The tennis star met the comedian after the match.
"He's obviously a very, very funny guy," the fifth-seeded Murray said after beating No. 11 Jurgen Melzer 6-3, 6-1, 6-1 in the fourth round.
"When I used to travel around, most of the tournaments we went to were in England, so we used to drive Scotland down to England. We used to listen to him on cassettes," Murray said. "We used to listen to it all the time, from maybe like 10, 11 years old until I was up to 15, 16."
Murray joked that Connolly probably played a role in his development as a tennis player.
"My mum and dad were pretty lenient with that stuff. Probably why my language is so bad on the court," said the generally mild-mannered Murray, who mutters to himself when he's losing and might swear under his breath.
Murray is seeking to avenge his loss in last year's Australian Open final to Roger Federer — and end a long British drought at the majors.
No British man has won a Grand Slam singles title since Fred Perry in 1936.
The 23-year-old Murray thanked Connolly for coming out to center court during an on-court interview with former star Jim Courier, who asked the comedian if he had any questions for Murray.
A microphone was sent over to the comic, who offered only one of his trademark quips: "Leave me alone."
___
WELCOME BACK: Agnieszka Radwanska has reached the quarterfinals at the Australian Open, an impressive showing considering she recently was out for a while.
The 12th-seeded Radwanska beat China's Peng Shuai 7-5, 3-6, 7-5 to advance in her first top action since surgery on her right foot. The injury forced the Polish player to miss the last two events of last season.
"I think this is unbelievable," Radwanska said, joking, "I should have surgery before every Grand Slam."
Radwanska has never made it past the quarterfinals of a Grand Slam. She said she feels no pressure about facing her next opponent, Kim Clijsters.
"She's a great champion, so I have nothing to lose," Radwanska said.
Clijsters advanced to the quarterfinals with a 7-6 (3), 6-2 win over Ekaterina Makarova of Russia. She's won every match so far in straight sets, including an impressive first-round win over former No. 1-ranked Dinara Safina.
The former No. 1 player took time off the tour when she married and had a child — daughter Jada, born in February 2008. She returned from a 2½-year retirement to win the U.S. Open in 2009, just three tournaments into her comeback. She won it again in 2010.
"We travel with a nanny. It keeps my mind focused when I have to be focused on tennis," the third-seeded Clijsters told her on-court interviewer. "I'm not doing everything. I'm not Superwoman."
"I never thought things would be going so well, so soon after I started again," she said.
___
CAUGHT ON COURT: A total of 22 players have been fined for code violations at the Australian Open so far, including men's No. 3 Novak Djokovic.
The 2008 Australian Open champion was handed a $1,500 punishment for getting advice from his coaching team during his third-round win over Spain's Nicolas Almagro on Sunday.
Spaniard Fernando Verdasco was the only other seeded player in the men's draw who was fined — $800 for racket abuse in his second-round win against Serbia's Janko Tipsarevic. Verdasco crashed out of the tournament in the next round.
After eight days, 19 men had been fined a total of $20,500. Three women were fined a combined total $11,000.
No. 10 Shahar Peer of Israel was the only women's seeded player fined — $1,500 for coaching in her second round defeat of Sorana Cirstea of Romania.
The largest fine on the men's side was $3,000 handed to Italy's Fabio Fognini for unsportsmanlike conduct during his first-round loss to Japan's Kei Nishikori. The largest fine overall — $7,500 — was handed to American Bethanie Mattek Sands for the same violation during her first-round loss to Arantxa Rus of the Netherlands.
Djokovic said he thought his fine was unwarranted, and that he should had been given a warning first.
"I don't think it was the right call because I missed a forehand and then I turn to my coach," Djokovic said, adding that players always make eye contact with their coaches during matches. "I didn't ask for the advice. That's my point."
___
SISTER SLIDE: The Williams Sisters are projected to drop in the rankings after the Australian Open, with Serena tumbling to a nearly three-year low.
Injuries have hobbled the once dominant pair.
Serena, at 29, has won 13 Grand Slams, including last year's Australian Open and Wimbledon. But shortly after her win at the All England Club, she cut her foot on broken glass at a restaurant and sustained an injury that has kept her sidelined ever since.
Serena is currently ranked No. 4 but when the new rankings come out, she is projected to drop to at least No. 13, the WTA said. It would be her lowest ranking since March 2007 when she slipped to No. 18.
Even before that news was made public, Serena tweeted from home Sunday that she wasn't feeling well because of a cold.
"My throat feels raw. every time I take a sip of sumthin it feels like i just swallowed 20,000 mini knives," said Serena, who keeps a running public conversation with herself on Twitter.
Venus, at 30, withdrew four minutes into her third-round match in Melbourne because of an ailing hip muscle. It was the first time in 251 Grand Slam matches she had retired from a major.
The No. 5-ranked Venus will exit the top five for the first time in a year, the WTA said. In January 2010, Venus was ranked No. 6.
The older Williams sister has won seven Grand Slams, most recently at Wimbledon in 2008.
If No. 1 Caroline Wozniacki reaches the semifinal she will retain her top ranking.
___
Associated Press writer Rohan Sullivan contributed to this report.