Milestones hold meaning for Hurricanes' Faulk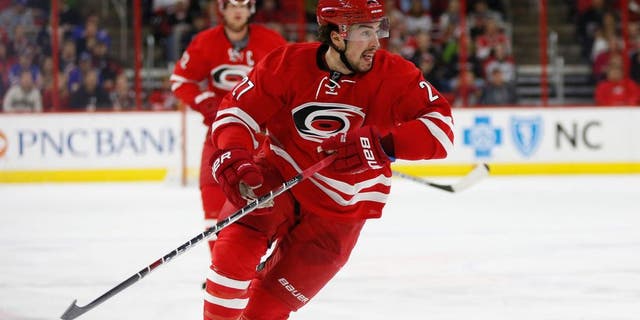 Carolina Hurricanes defenseman Justin Faulk is on the edge of one milestone while keeping his eyes on another.
Faulk is set to play in his 300th career NHL game on Thursday when the Hurricanes host the streaking Washington Capitals, who have won nine in a row. While that plateau will be reached in a few hours, the 23-year-old Faulk is keeping Sheldon Souray's NHL record of 19 power-play goals by a defenseman in his sights.
Faulk's first 12 tallies came with the man advantage this season before he netted even-strength goals in back-to-back contests over the weekend. Faulk, who has a team-leading 30 points, has scored two career goals versus Washington - with one coming on the power play.
A second-round pick of the 2010 draft, Faulk has scored 47 career goals and set up 101 others in parts of five seasons with Carolina.