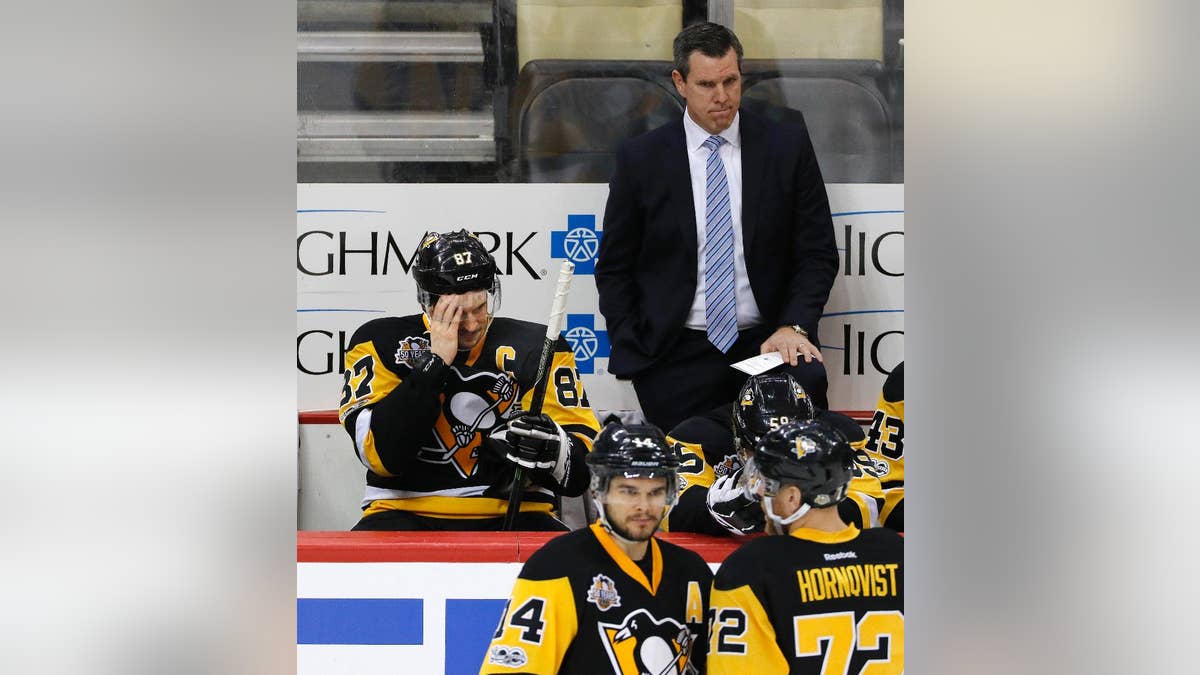 PITTSBURGH – The Pittsburgh Penguins looked like they needed a day off. Maybe more than one.
And yet there the defending Stanley Cup champions were on Tuesday morning, dressed and skating barely 12 hours removed from a listless Game 6 loss to Washington that put Pittsburgh's bid for a repeat in serious peril.
The Penguins weren't there to get loose. They weren't there as punishment. Mike Sullivan had a point to make. Several actually. And the coach owner Mario Lemieux hired nearly 18 months ago to be the voice that cut through the noise figured it was time to remind his players of a few things.
Namely, to stop being passive bystanders while the Capitals attacked and attacked some more. So for more than half an hour Sullivan zipped around the ice at the rink named after his boss, whistle at the ready. Intermittently he'd head to the whiteboard hanging against the glass then call his players over to join him so he could loudly - and repeatedly - make a point, his thick Boston accent ping-ponging off the walls and over the din.
"There's times where you need rest, there's time where you've got to work on some things and try and get better," forward Bryan Rust said. "And that was our goal (Tuesday) and we accomplished it."
The proof came in Game 7 on Wednesday night, a clinical 2-0 victory over the Capitals that sent Pittsburgh to the Eastern Conference finals against Ottawa. While Sullivan deflected any praise in the aftermath — preferring instead to pepper his answers with words like "leadership" and "character" and noting the spectacular play of goaltender Marc-Andre Fleury — the Penguins understand their ability to summon their best when they absolutely need it is due in no small part to the guy with the immaculate suits, blunt demeanor and knack for saying the right thing at the right time.
"Xs and Os, he's one of the very best coaches I've played for," said 40-year-old forward Matt Cullen, who has bounced between seven teams during his 19-year career. "(As for) motivation, he does a heck of a job. He's got a real feel for the pulse of our group."
One that was visible at his first practice after taking over for Mike Johnston in December 2015. The Penguins and their star-powered lineup led by Sidney Crosby and Evgeni Malkin were treading water. Sullivan wanted them to play faster. He wanted them to play smarter. He wanted them to be more accountable to each other. While general manager Jim Rutherford went about getting Sullivan the pieces he needed to — as Sullivan is so fond of saying — "play the right way," the coach turned the focus from the big picture to a smaller one.
Just worry about today. Not about winning the Cup that won't be determined in six months. Not about their place in the standings. Not about the outside pressures that come when you happen to have two of the best players in the league on your roster. Just today.
It's a message he hasn't wavered from. Not after Pittsburgh brilliantly sprinted to the franchise's fourth Cup last June. Not during what could have been a difficult regular season as injuries devastated the blue line. Not after a 3-1 series lead against Washington fell apart amid a smattering of boos inside PPG Paints Arena.
Sullivan didn't panic. It's not his thing. While Washington took Tuesday off after its win, Sullivan put his players back to work.
"His ability to stay calm and refocus us is something I think our team feeds off of," defenseman Ian Cole said.
There were noticeable adjustments before Game 7. Carter Rowney and Scott Wilson in the lineup in place of Carl Hagelin and Tom Kuhnhackl. It was more than that, however. After spending the better part of six games letting Washington dictate the terms, Sullivan challenged the Penguins to get back to what made them nearly unstoppable last summer. Put the puck in deep. Forecheck. Take educated gambles.
"It wasn't one big thing," Cole said. "It's little things all over the ice. It's chipping bodies. It's being physical and being tough to play against. Taking away their ice."
Pittsburgh did more than that. The Penguins sapped Washington's will. Rust's goal near the midway point gave the Penguins the lead. Hornqvist's backhand flip by Braden Holtby following a sloppy play by Capitals star Alex Ovechkin pushed the advantage to two. And Pittsburgh kept on coming, outshooting the Capitals over the final 20 minutes, playing with desperation and precision while Washington watched the clock tick away one last time.
"It's about compete level, a mindset," Sullivan said. "It's about heart and soul."
And the steady hand behind the bench, too.
___
More AP NHL: https://apnews.com/tag/NHLhockey