Miggy on the mend: fantasy baseball impact of MLB injury report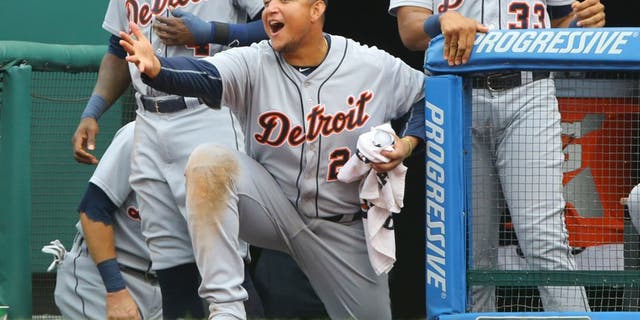 Miguel Cabrera
The former MVP has been placed on the 10-day DL with a mild groin strain. The injury occurred when Miggy attempted to field a ball during Fridays loss to the Twins. The groin is directly responsible for lateral movement and was likely overstretched in Cabreras failed attempt to stop the ball. Fortunately, the strain is mild and it appears the Tigers are taking advantage of the new, shorter DL to insure Cabreras long-term health. Cabrera has previously played through other assorted injuries, only to see them negatively impact his performance. While the timing is unfortunate, losing Cabrera for 10 days is better than a season-long dip in productivity.
Madison Bumgarner
The Giants ace pitcher joined an infamous group of athletes late last week when he wrecked a dirt bike on Thursday. Like Monta Ellis on a moped or Joel Zumaya playing Guitar Hero, Bumgarner is slated to miss an extended period of time after injuring himself away from the playing field. The wreck has left Bumgarner with bruised ribs and sprained shoulder on his pitching arm. The team placed him on the disabled list for the first time in his career and will reevaluate his injuries in a week to better establish a recovery timeline.
The sprained shoulder is the bigger issue of the two injuries. Specifically, Bumgarner sprained the acromioclavicular (AC) joint on his left arm. The AC joint is located where the clavicle (collarbone) connects to a bony process on the shoulder blade (scapula) known as the acromion. It acts as a strut for the shoulder and enables the arm to be raised overhead. Two ligaments, the acromioclavicular (AC) and coracoclavicular (CC) ligaments, fortify the area. However, both ligaments are vulnerable to injury when the tip of the acromion is forcefully pushed downward.
Due to their complexity, AC injuries are graded on a different scale than most other ligament injuries. Instead of a three or four-point system, AC sprains are classified on a six-point scale. A Grade I sprain is the least severe and occurs when both ligaments are overstretched, causing microtearing of the structures. A Grade II sprain indicates a tear of the AC ligament while a Grade III denotes a complete tear of both the AC and CC ligaments. An upward shifting of the clavicle often accompanies a Grade III AC sprain. The final three grades are relatively uncommon and usually occur in a high-energy impact like a car accident. Injuries that fall in this category usually require surgical intervention as muscles and other neighboring structures become involved.
Fortunately, surgery has been ruled out for Bumgarner and the team is classifying the injury as somewhere between a Grade I and Grade II sprain. Early estimates have hinted at a six- to eight-week recovery timeline, though the team hasnt released any specifics. The precedent for a quick return to play is somewhat promising, as pitchers Jason Motte and Drew Pomeranz missed minimal time following low-grade AC sprains. However, Bumgarners injury likely is more severe and should force him out a bit longer. Anticipate him missing at least four weeks with that date remaining fluid as the team continues to assess the issue.
Check Swings
Yoenis Cespedes: The Mets slugger believes he will be ready for a return to action Tuesday after missing three straight games with a mild hamstring injury. Initially described as cramping, Cespedes is confident the injury will continue to improve following Mondays day off. The fact that he was in the on-deck circle late in Sundays loss to the Nationals is another indicator that Cespedes will play this week. Use him if you have him, but remember he does have a lengthy history of lower extremity problems, and his inherent level of risk will remain elevated for the immediate future.
David Dahl: A MRI showed considerable improvement in Dahls injured rib, allowing the outfielder to resume hitting. Dahl has been unable to swing a bat since a stress reaction in his sixth rib was discovered but finally can take the next step in his rehab protocol. If he continues to improve, look for the Rockies to send him out on a rehab assignment sometime in the near future. A mid-May return appears realistic.
AP/Copyright The Associated Press. All rights reserved.
Kendall Graveman: Graveman could take the mound as early as Thursday as he works his way back from a minor shoulder strain. He pitched a bullpen session Friday and was expected to throw again on Monday. If all goes well, look for Graveman to be activated prior to the series against the Angels. The 26-year-old has pitched well in three starts this season, striking out 12 with a 2.00 ERA and 1.00 WHIP.
J.D. Martinez: The Tigers outfielder continues to progress in recovery. Martinez hasnt played since suffering a Lisfranc sprain in his right foot but recently began limited running. Hes slated to run again Monday and could begin a rehab assignment in the near future if he continues to improve. As a result, Detroit believes he will be back in action by early May, if not by the end of the month.
Garrett Richards: The Angels have transferred Richards to the 60-day DL, eliminating any chance of an early return. The right-hander has been sidelined with a biceps injury that may have a level of nerve involvement. A spinal MRI was taken after Richards reported a decrease in strength, though no cervical disc or nerve issues were discovered. He can return no earlier than early June. Fantasy owners would be wise to look elsewhere.
Kyle Seager: The Mariners opted for the cautious approach with Seagers sore hip and removed the third baseman from Sundays lineup. He didnt start on Saturday but did make a pinch-hit appearance. With another day off on tap for Monday, Seager should be able to return Tuesday against the Tigers. Consider him day-to-day for now.
Jean Segura: Seagers return to the lineup could coincide with Seguras return from a hamstring strain. Segura completed a rehab assignment with Seattles Double-A team in Arkansas and reported no setbacks in the field or at bat. Scale back your expectations initially, as the Mariners could carefully manage Segura on the base path until they are confident he has moved past this injury.
Jeff Stotts works as a Certified Athletic Trainer (MAT, ATC, PES, CES). He won the 2011 Best Fantasy Football Article in Print from the Fantasy Sports Trade Association.