Michigan adds new verbal commit then loses another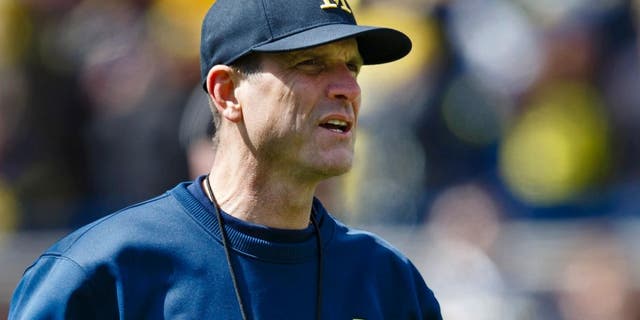 NEWYou can now listen to Fox News articles!
Michigan gained one verbal commit Monday and lost another.
First came the news just after noon that Michael Dwumfour, a defensive tackle from Wayne (N.J.) De Paul Catholic who was previously committed to Penn State had decided to go to Michigan instead.
In the evening, three-star defensive end Rashad Weaver announced he was decommitting from Michigan and indicated it was because his offer to be part of coach Jim Harbaugh's class had changed.
"After being committed for about seven months and receiving little to no contact from staff, I was informed by coach Harbaugh that there is a 50/50 chance that he would not have room for me on (national signing day)," Weaver wrote on Twitter. "So I was basically a 'Plan B.' And I know within myself I am not a 'Plan B' player."
Weaver, a three-star defensive end from Cooper City, Fla., added he was offered the chance to be a preferred walk-on or to go to prep school and potentially enroll later, "but that isn't an option for me when I have multiple other Division I offers."
He also thanked Michigan for the opportunity to be in the class in the first place and praised Wolverines fans for being "awesome and very supportive throughout the whole process."
Later Weaver followed up defending Harbaugh against criticism for the development.
247Sports reported Weaver has recently visited Temple and South Florida.
Weaver was one of the players to commit during Harbaugh's ballyhooed summer camp tour in June, and he is not the first to decommit recently.
Indiana running back Kiante Enis and Florida defensive back Antwaine Richardson did so last week.
Illinois offensive tackle Erik Swenson, who had been a member of the class since before Harbaugh became head coach of the Wolverines, also left the class last week after reporting he was told to look elsewhere.