Michael Johnson says 'blade runner' has an 'unfair advantage'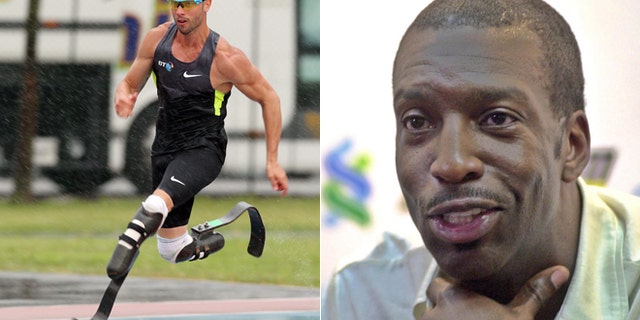 Michael Johnson, the American sprinter won gold medals in the 1992, 1996 and 2000 Olympics, said disabled athletes who use prosthetic limbs may have an "unfair advantage" and should not be allowed to run in able-body races.
The Telegraph reported that Johnson was talking about South African, Oscar Pistorius, known as "blade runner."
Pistorius will become the first amputee track athlete to compete at the Olympics after being selected by South Africa to run in London. He's set to compete in the individual 400 and the 4x400 relay, although the team hasn't decided which leg he will run.
Johnson said he considers Pistorius a friend and that he knows his position on the matter.
"Roger Black (another runner) made the best point on this whole thing," Johnson said, according to The Telegraph. "'What happens when we have a Michael Johnson, a 43-second 400-meter runner, who then has a horrific accident and then becomes a disabled athlete and then you put him on blades, these prosthetics, and he is now running 41 seconds?"
Click for more from The Telegraph
The Associated Press contributed to this report