Messi has already scored more than Real Madrid's top 3 forwards combined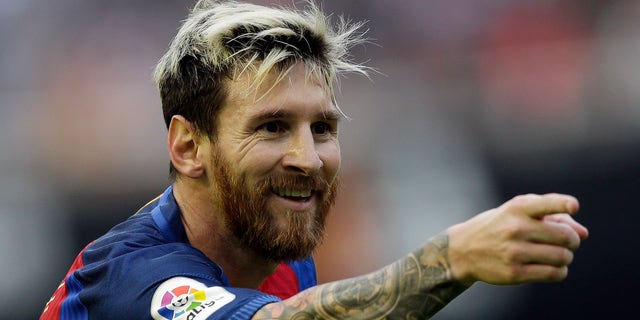 NEWYou can now listen to Fox News articles!
MADRID (AP) – By himself, Lionel Messi has already scored more than Real Madrid's top three forwards combined.
The Barcelona star is off to one of the best starts of his career with 14 goals in 11 matches, two more than what Cristiano Ronaldo, Gareth Bale and Karim Benzema have netted so far with Madrid.
And Messi has done it despite being sidelined for three weeks because of an injury.
"Messi has been superb," Barcelona coach Luis Enrique said simply.
The Argentina forward hadn't started a season with so many goals since 2011-12, when he scored 14 times in 10 matches.
So far, Messi has already scored eight more goals than he did last season at the same point. He has two hat tricks and is the leading scorer in both the Spanish league and the Champions League. In his last six games, he has scored 11 goals, with six coming in the three games he played since recovering from a right groin strain.
Messi's rivals at Madrid have not come close to him this season.
Ronaldo has nine goals, but that includes five with Portugal in World Cup qualifying. He is currently in a slump in the Spanish league with only two in six matches.
"Of course Cristiano wants to score more," Madrid defender Marcelo said. "But he is a player who helps a lot, and not only with goals, also with his work on the field."
Benzema scored his fourth goal of the season in a Spanish league game last weekend, while Bale has netted seven times in 14 appearances.
Seven of Messi's goals this season were scored in the Spanish league, with one in the Spanish Super Cup and six from a couple of hat tricks in the Champions League.
The current form could leave the 29-year-old forward in position to again win the Ballon d'Or award for the world's best player. He has already won the award five times, including last season.
Messi's great scoring start is somewhat of a surprise because in the last few years he has taken more of a playmaker role after the additions of Luis Suarez and Neymar. The trio broke scoring records in each of the last two seasons, with Suarez leading the way last season. The Uruguay striker has opened with 10 goals in 13 appearances, while Neymar has found the net six times in 10 matches this season.
Barcelona plays Espanyol in the Catalonia Super Cup on Tuesday, but neither Messi nor any of the other regular starters will be playing.
Messi's next chance to increase his goal tally will likely be Saturday against last-place Granada, a team that has already conceded 23 goals in nine Spanish league matches.
Like us on Facebook
Follow us on Twitter & Instagram