Messi dazzles as Barcelona beats Bayern Munich 3-0 in Champions League match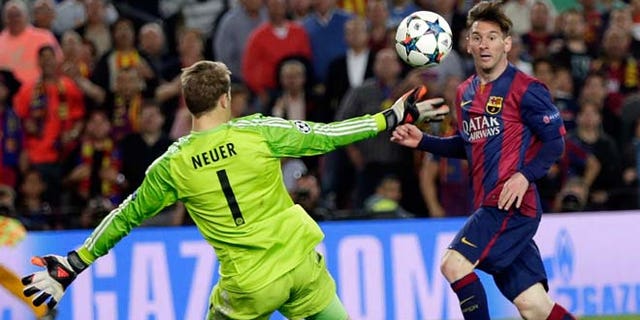 BARCELONA, Spain (AP) – Pep Guardiola had seen Lionel Messi scoring spectacular goals after dazzling runs many times before. Only now, Messi was doing it against Guardiola's team.
Messi scored twice and set up Neymar for another as Barcelona overwhelmed Bayern Munich in the final 20 minutes for a 3-0 victory Wednesday night in the first leg of their Champions League semifinal.
"Again, Messi leaves us speechless," Barcelona midfielder Andrés Iniesta said.
Messi put Barcelona ahead in the 77th minute with a 19-yard left-footed shot that beat goalkeeper Manuel Neuer to the near post following a giveaway by Juan Bernat to Dani Alves.
Messi doubled the lead three minutes later when he took a pass from Ivan Rakitic at the top of 18-yard box, dribbled in with such speed and change of direction that defender Jerome Boateng fell. Messi then chipped over Neuer with his right foot from 6 yards.
"It wasn't only Messi. Barça is a very good team," said a dour Guardiola, who coached Barcelona to 14 titles in four seasons.
Messi has 53 goals in 51 games this season, including 10 in 11 Champions League matches. With 77 career Champions League goals, he moved one ahead of Real Madrid's Cristiano Ronaldo for the most.
"Guardiola knows Messi, and he knows that if [Messi] is inspired nobody can stop him," Barcelona defender Gerard Piqué said. "He scored two spectacular goals."
Barcelona's third goal developed when Luis Suárez was fouled by Bastian Schweinsteiger near midfield, the ball rebounded to Messi and Italian referee Nicola Rizzoli allowed play to continue because of Barcelona's advantage. Messi fed Neymar from midfield for a breakaway, and Neymar slotted past Neuer from 14 yards in the fourth minute of stoppage time.
The second leg of the total-goals series is Tuesday in Munich, and Barcelona will seek to reach the final for the first time since winning its fourth European title in 2011. Defending champion Real Madrid tries to overturn a 2-1 deficit against visiting Juventus on Wednesday.
"The third goal is a shame because with 2-0 we still had options," Guardiola said. "I congratulate Barcelona with all my heart, and we will see each other next week in Munich."
Barcelona outshot Bayern 17-8, including 8-0 on target, but had a rare night of being out-possessed: 53 to 47 percent. This was a stark turnaround from two years ago, when Bayern routed Barcelona by 7-0 aggregate in the semifinals en route to its fifth European title and first since 2001.
"We created many more chances than our rival," said Barcelona coach Luis Enrique, a friend of Guardiola and a former teammate. "Messi is a player of another dimension, but beyond what Leo did in attack, look at what how much he ran in defense."