MCREYNOLDS: Gibbs Darlington Effort Mixed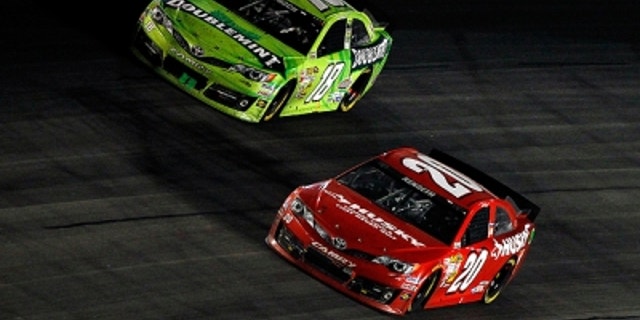 NEWYou can now listen to Fox News articles!
NASCAR was blessed to have awesome weather on Saturday night at Darlington Raceway. I know we had been watching the forecast all week and all day, I know we were nervous that rain might come, but the weather just couldn't have been any better. The crowd we had here for the NASCAR Sprint Cup race was one of the best I have seen at Darlington in a long, long time.
I think as much as people were turned off a few years ago when NASCAR moved the Southern 500 away from Labor Day weekend and to the spring, I think now we're starting to see a little bit of flavor come back to the race; people are truly looking at this as a traditional weekend.
It didn't take long to realize on Saturday, though, that if you were going to win this race, you were going to have to beat Kyle Busch.
His car was good on restarts, his crew was flawless, he was good when the race was in daylight, he was good when it was in twilight and it just looked like nothing could beat him. Different drivers started making runs at him, like his brother Kurt Busch in the very beginning, like Jimmie Johnson and Kasey Kahne later, but it just looked like no one was going to beat this guy.
Then Matt Kenseth caught him, passed him and won the race. Busch's team said he had a slow tire leak in the last 20 to 25 laps - it was absolutely like you threw a light switch in those final laps as he fell back to sixth.
This is kind of what went on with Kyle Busch last year. He only won one Cup race, at Richmond, didn't make the Chase for the Sprint Cup and in the nine races leading up to this year in which he led the most laps, he didn't go to Victory Lane.
On Saturday, he absolutely put on a driving clinic at Darlington before he had the problem late in the race. I know probably the only driver that was happier to see the checkered flag was race-winner Matt Kenseth.
The entire race was a battle between the two organizations that have pretty much dominated this season — Joe Gibbs Racing and Hendrick Motorsports. They had won seven of the first 10 Cup races leading into Darlington. I know there were many times throughout the night that when you looked up, it was basically those organizations' seven drivers in the top seven.
But Matt Kenseth — what a week, what a month he and his Joe Gibbs Racing team have had. First winning the Kansas race, then a severe NASCAR penalty for a connecting rod that did not meet standards and then the appeal of that penalty in which he and his team got a huge bonus. So many of the penalties were reduced, including altering the driver/owner points penalty from 50 to 12 and reducing crew chief Jason Ratcliff's suspension from six races plus the All-Star Race to one race, which was Saturday.
For those guys to pull into Victory Lane on Saturday was an accomplishment.
I know Jason Ratcliff was not at the track physically, but you know the way technology is today, we had even heard that he had a command center set up at Joe Gibbs Racing where he could communicate through a lot of technology with interim crew chief Wally Brown and that whole group.
What an unbelievable night for Matt Kenseth and that group. Matt Kenseth gets his first Southern 500 win and shows that he will truly be a championship contender here in 2013.
But certainly the other big story has to be Denny Hamlin finishing second. He did so in his first full race back since the injury at Auto Club Speedway about a month-and-a-half ago. I think that makes a very huge statement about his determination and the team's determination, to come back and do that Saturday night.
One thing that came out of the Darlington weekend which was a head-scratcher to me was the Ford camp not having a much better weekend. If memory serves me right, Greg Biffle was the only Ford driver to qualify in the top 10. Then Saturday night, for the majority of the night, we didn't have a Ford driver even running in the top 10.
It took Carl Edwards all night just chipping away and he ended up being the only Ford driver to get a top-10 finish. I can promise you there will be a lot of review and breakdown of the available data as to why the Ford camp wasn't any stronger than it was at Darlington.
I want to tip my hat to Jeff Gordon, who not only made his 700th career start in NASCAR Sprint Cup racing on Saturday night, but even more impressive, if that's possible, it was his 700th consecutive career start. It's kind of ironic that he reached this milestone at a track where he has enjoyed tremendous success, having won seven times there.
As if all of that was not enough of a highlight, it got even better. Jeff finished third in the Southern 500 and it marked his 300th top-five finish in his illustrious career. That's a heck of a batting average if you ask me and, quite honestly, I don't think he is done yet.
I know a lot of folks are asking how long Jeff is going to continue to race and if he will possibly break Ricky Rudd's consecutive start record of 788.
Only Jeff can answer those questions.
What I do know is that if he continues to have runs and finishes like he did Saturday night in Darlington, you are not going to have to worry about Jeff Gordon going away anytime soon.