MCREYNOLDS: For Some It's Must Win Tiime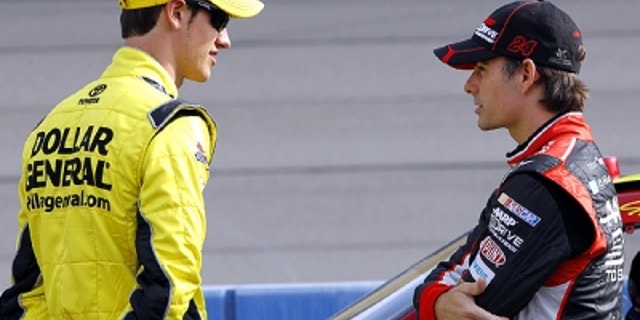 It definitely was a wild race Sunday at Michigan International Speedway.
We had a lot of different frontrunners who at times seemed like they were going to run away with the event. At the end of the day, however, it was Greg Biffle in his Ford taking the checkered flag. This was the first time a Ford has won at Michigan since Carl Edwards did so in 2008. On top of all that, Greg not only got his second win of the season, but the three bonus points for when the Chase starts - and he now has the points lead.
Anyone who saw Mark Martin's crash can truly appreciate the fact that it was a very scary crash for a lot of reasons. Any time you have a car spinning and sliding toward the pit wall, your immediate concern goes to the crew members and all the people in the pits.
When you saw the car hit the end of the pit wall, you saw that wall act like a can opener. It was by the grace of God that the car hit that wall behind the driver's compartment and not at the driver's compartment. There is no doubt about it that Mark was very, very lucky.
I feel bad for Mark and for that race team. They have had very fast race cars all season long. Michigan was the fourth pole of the year for Mark, who is in his first year with Michael Waltrip Racing and running a limited schedule at that. He continues to prove that these race cars don't have a clue how old the driver inside is. Mark was even dominating that race early on.
That freak wreck wasn't really anyone's fault. No one really got into anybody. It was just Bobby Labonte and Juan Pablo Montoya fighting to stay on the lead lap. Mark was hot on their heels, Bobby got loose and they basically all stacked up behind him. Unfortunately Mark just happened to be a victim of it.
Now on the other end of the spectrum, this is the kind of momentum that No. 16 team of Greg Biffle needs just at the right time. Greg started the year off hot. He had three third-place finishes and it got even better when he took the win at Texas. Greg even led the points for awhile.
While I don't want you to think they fell off, that group definitely got into some inconsistency as a team. So to come back and win, especially at Michigan, a place that means so much for his owner Jack Roush, was a really big deal. It marked Roush Fenway Racing's 12th Sprint Cup series win at Michigan.
Biffle's teammate Carl Edwards had a real good solid run, finishing sixth. His other teammate, Matt Kenseth, also had a great run going, but a flat tire after a restart cost him dearly as he could never really recover and he finished 17th. But all in all, the three Roush Fenway cars were strong. Then throw on top of that the fifth-place finish by Marcos Ambrose with Richard Petty Motorsports, which really is just an extension of Roush, and for a lot of reasons Sunday was a really good day for Ford and Roush Fenway Racing.
Obviously the other big story coming out of Michigan is the three Hendrick engine failures. First it was Tony Stewart, who leases Hendrick engines. Then it was Jeff Gordon and while leading the race with only six laps to go, Jimmie Johnson lost his engine.
Knowing you have this kind of problem with only three races left before the Chase for the Sprint Cup, and in two weeks is another racetrack, Atlanta, that is also very hard on engines, well I just bet there will be some sleepless nights in the Hendrick engine department. The good news is I have never known that group to have an outbreak of failures like we saw this past weekend and then not solve that immediately.
Actually this is not uncommon. Hendrick Motorsports had something very similar happen a year or two ago to them at Talladega Superspeedway.
So we head to Bristol Motor Speedway this weekend with five drivers outside the top 10 that only have the single win. Throw into that mix Carl Edwards, who is sitting 12th in points but desperately needs to get his first win of the season with only three races remaining.
Jeff Gordon and Joey Logano certainly didn't help their causes Sunday. With Jeff's engine letting go and Joey getting into the wall, their slide backward continues. Marcos finished fifth, as I mentioned earlier, but that really doesn't do him any good right now. All three of these guys have to win in the next three weeks because even though they have a single win, they are behind in the points to those who also have one win. So that means their shot at one of the wild-card slots gets dimmer and dimmer.
Ryan Newman, who has the win at Martinsville back in the spring, also is searching for that second win to lock him into the Chase. While he isn't winning races, Ryan is doing a good enough job finishing high up in the races that he sits atop all those drivers in the points with one win. Remember, like we have said all season long, it really is going to take two wins to guarantee yourself a spot in the 2012 NASCAR Chase for the Sprint Cup.
So with three races to go, two of which are at short tracks and the third at an engine-eating, 500-mile race, how this wild-card scenario plays out at the end is going to keep ramping up in excitement and for some of these drivers – desperation.
Like the old cliché goes "Desperate times call for desperate measures" and we have a lot of desperate drivers sitting out there right now.