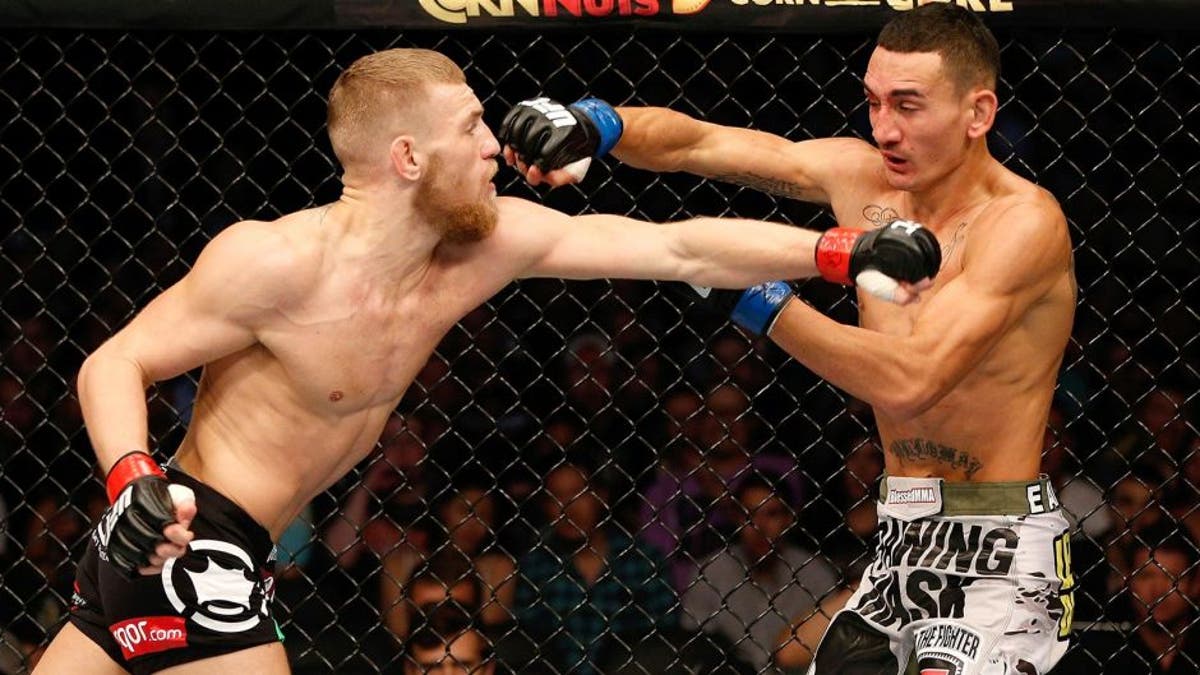 On Sunday night an unfortunate injury suffered by Charles Oliveira gave Max Holloway his seventh consecutive UFC victory, tying him with featherweight champion Jose Aldo for the longest active win streak in the featherweight division. The last man to beat Holloway was current interim champion Conor McGregor, back in 2013.
In fact, Holloway passed up McGregor on that same featherweight UFC win streak list, as the Irishman has won six straight in the promotion. Of course, the "Notorious" one has won 14 fights in a row, in all, going back to before he debuted in the UFC.
The point is, however, that Holloway and McGregor once again find themselves in similar positions in the featherweight division. A couple years ago they were young upstarts.
Now, they are top-ranked, elite 145 pounders. McGregor is set to next fight the champ, Aldo, Dec. 12 at UFC 194 in Las Vegas.
Holloway has called for a 2016 fight against former lightweight champion Frankie Edgar, who the Hawaiian believes is the rightful number one featherweight title contender. However, Holloway wants a rematch with McGregor badly.
"I'll fight him any day of the week," he told reporters at the post-event press conference.
"Now, I don't have a fight, I can talk how I feel, you know? I'll fight [McGregor] any day of the week. You know, UFC could have called me up for [UFC 189 to replace Jose Aldo against McGregor] and I would've took it. They didn't, they chose Chad. I'd love to fight him. You want to talk money -- Holloway vs. McGregor II, you've got money with that fight."
In their first pairing, McGregor earned a unanimous decision over Holloway despite tearing his knee during the contest. Both men have gone on tears since that fight, however, and Holloway is confident that he's improved enough to beat the new superstar.
If he doesn't get a sudden call to fight McGregor (please, Jose Aldo, keep those ribs healthy!), Holloway wants to fight at home in Hawaii and headline against "The Answer."
"It would be a great trip, I promise. It's super fun," he told the media, while starting a #UFCHawaii hype effort.
"Let's get UFC to Hawaii...Holloway vs. Edgar in a stadium, it would be huge."