Maui musings: a Ryder Cup year in which the most pressure is making the team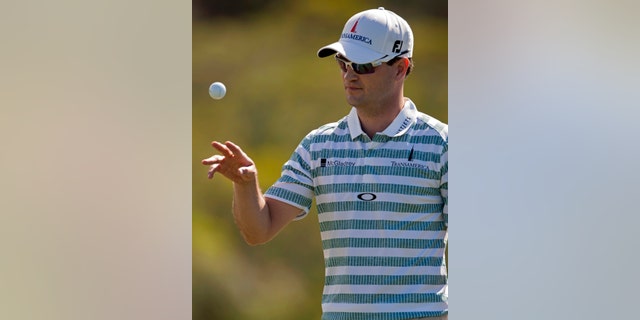 KAPALUA, Hawaii – The most pressure involving the Ryder Cup this year is simply getting on the team.
It has never been more difficult — for Europe or the United States.
"I do not want to be missing out on that one," Graeme McDowell said last month at the end of a most successful season.
The former U.S. Open champion and Ryder Cup hero from Wales in 2010 won three times last year, including the World Match Play Championship in Bulgaria. He finished the year at No. 14 in the world, behind five Europeans — Henrik Stenson, Justin Rose, Rory McIlroy, Sergio Garcia and Ian Poulter.
But there are no guarantees in golf, especially in this era of great depth. McDowell goes into the year outside the top nine in the standings (four from European Tour money, five from world ranking points, both earned since September).
Both captains, Tom Watson and Paul McGinley, have three wild-card selections. Both teams have young players who were never part of the Ryder Cup conversation until now, whether that's Jordan Spieth of Texas or Victor Dubuisson of France.
"There's going to be two or three guys who miss," McDowell said. "Good players. Quality players. I assume McGinley's wild cards are going to be very hotly contested. No doubt it's going to be a tough team to get on."
It's like that for America, too.
All anyone has to do is look at the Presidents Cup last October — not because of who played for the American team, but who didn't.
Jim Furyk was left off the team when U.S. captain Fred Couples picked Spieth, and it was hard to fault him for that. Dustin Johnson, whom many regard as the best American talent under 30, didn't make the team and wasn't picked. Former Masters champion Bubba Watson stayed home. Rickie Fowler hasn't played on a U.S. team since he was a captain's pick for the Ryder Cup in Wales.
"It certainly is getting harder now — that, and I think the American players are hungry for it, so they're playing and they're working," Zach Johnson said. "They are grinding and they want to make that team. It's harder to make those teams."
Last fall, Johnson couldn't help but look at the rosters and say, "He deserved to be on the team," or "How do you not take that guy?"
"The obvious one was Jim," he said. "How was he not on the team?"
Furyk had not missed a Ryder Cup or Presidents Cup team since 1997. Then again, Furyk was 43 and every year gets a new class of young players who made it even harder. Harris English won twice last year. Think he doesn't have the Ryder Cup on his mind, especially after having played in a Walker Cup?
Tiger Woods, when he was going through a season of mediocre golf and troubling injuries in 2011, was regarded in some circles as a questionable captain's pick for the 2011 Presidents Cup at Royal Melbourne. Woods didn't even qualify for the FedEx Cup playoffs. Before heading down to Australia, his last top 10 was in April. Taking him would mean leaving PGA champion Keegan Bradley off the team.
All the opinions and analysis overlooked one important thing. He's Tiger Woods. And that made him an obvious choice.
How many guys are locks like that now?
Phil Mickelson, who turns 44 this year and is as unpredictable now as when he was a rookie, probably still fits into that category. And that's about it.
Consider who might be expected to play at Gleneagles the last week of September. Woods, Mickelson, Steve Stricker, Matt Kuchar, Zach and Dustin Johnson, Jason Dufner, Hunter Mahan, Keegan Bradley, Spieth, Webb Simpson, Brandt Snedeker, Bubba Watson, Furyk.
We're already up to 14. The Ryder Cup takes only 12.
And that's overlooking which new star might emerge this year. English? Billy Horschel? Gary Woodland? Ryan Moore?
Europe was at its strongest in the middle of the 2000s decade. Again, the strength was measured more by who didn't make the team. That prompted Colin Montgomerie to say in Ireland in 2006 that Europe had reached a stage where it could field two quality teams. It used to be the Europeans barely had enough for one.
Rose and Poulter didn't make the '06 team. Darren Clarke was left off the 2008 team, even though he had won twice that year. Garcia didn't play in 2010.
The Ryder Cup already is closer than ever. Sure, the Europeans seem to have a lock on that gold chalice. They won in 2010 when it came down to the final match, even though the Americans won all but one session in that rain-filled week. Europe's win in Medinah required a stunning comeback on the final day. It effectively was decided on a 45-foot birdie putt by Justin Rose.
The competition is greater than ever — for three days of competition, and especially for the next eight months trying to make the team. One thing is certain. There will be a lot of players disappointed to be sitting in front of their TVs.