Mattingly backs Utley '100 percent,' says Dodgers ready for retaliation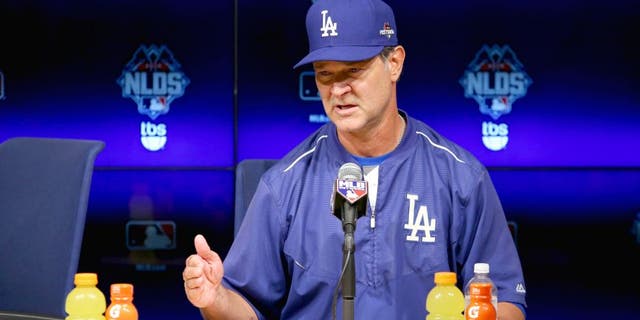 NEWYou can now listen to Fox News articles!
There has been quite a hullaballoo about Chase Utley's hard slide in the Dodgers' 5-2 win over the Mets in Game 2 of the NLDS, but that hasn't changed the Dodgers' opinions of the incident and feelings about Utley.
"I look at it as a baseball play," Mattingly said of Utley's slide, which broke the leg of Mets shortstop Ruben Tejada. "It was a hard, aggressive, legal slide to me."
Utley was suspended by MLB for Games 3 and 4 for the slide, a ruling he plans to appeal on Monday.
"Our organization's proud of the way Chase plays," Mattingly said. "We love the way he plays. He's got a reputation for playing the game right, playing it hard. We're behind him 100 percent."
Your browser does not support iframes.
Mattingly applauded Tejada for his courageousness in attempting to turn a double play despite knowing that Utley was charging towards him.
He also noted that there would have likely been a different reaction to the incident had the teams been swapped and an injury didn't occur.
"If it got spun around, and their captain, David Wright, comes into [shortstop Corey] Seager, and slides like that, the exact same slide -- and let's say he doesn't get hurt -- there'll be rumblings, but it goes away," Mattingly contended. " … If nobody got hurt, it wouldn't even be talked about other than today. It would just have been a hard slide.
" … Since someone got hurt, now it's a story. That's just the way I look at it. If it'd been their guy, they would've been saying 'David Wright, hey, he's a gamer; he went after him; that's the way you gotta play,' but it's our guy, it's different."
Mattingly then turned his attention towards the New York media's sensational reaction to the incident, a phenomenon he's all too familiar with having played for the Yankees.
"I know how the New York media gets a little bit going and it gets dramatic, but for me, you can't have it both ways," he said. "If David would've did it, it wouldn't have been any problem here in New York."
Although Game 3 will take place two days after the incident, there is speculation that the Mets will retaliate on Monday, which the Mets' Game 3 starter Matt Harvey did nothing to snuff by saying, " As far as sticking up for your teammates, I think being out there and doing what's right is exactly what I'm going to do," on Sunday.
In the event that the Mets retaliate, Mattingly pointed to past confrontations as to how the Dodgers would respond.
"We've been involved with a few things over the years," he said. "We really don't start anything, but we've never backed away."