Marlon Byrd celebrates 38th birthday with hits party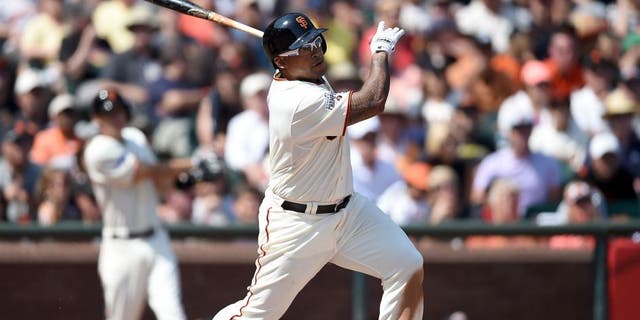 Marlon Byrd certainly knows how to throw a birthday party for himself.
In the Giants' 7-5 loss to the St. Louis Cardinals on Sunday at AT&T Park, Byrd went 3 for 4 with two doubles, a triple, and four RBI on the day of his 38th birthday.
"I got enough carry, enough backspin to get the ball off the fence twice," Byrd said. "It was just one of those days where the swing's feeling good."
Although he's reaching the end of his playing career, Byrd has been a key addition to the Giants as they make a run at the NL West pennant.
"He's definitely been big," rookie third baseman Matt Duffy said. "He kept us in the ballgame today and gave us a chance to win. It's nice to have another bat like that, another veteran bat."
In his rookie season in 2003, in which he hit .303/.366/.418 with seven home runs and 45 RBI, Byrd went 2 for 5 with an RBI on his 26th birthday.
Twelve years later, he's still as dangerous an offensive weapon as ever.
"Byrd, what a game he had to get us back in the game," manager Bruce Bochy praised.
Despite his big day, Byrd wasn't completely content with the game.
After all, the Giants lost the game, which kept them 3 ½ games back in the NL West despite the Dodgers being no-hit by Cubs ace Jake Arrieta on Sunday.
"Yes," Byrd said when asked if there were a better way to spend his birthday. "With a 'W.'"
(h/t MLB.com)