Mark Jackson's Time in NBA Makes Him a Player's Coach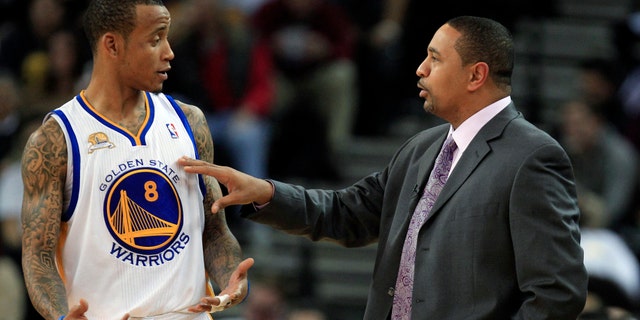 Despite managing some consistent play last week, Mark Jackson's 5-11 Golden State Warriors have once again hit a road block with three loses in four games.
The first-year coach, who spent 17 years in the NBA, still maintains some level of confidence in his Warriors.
Jackson has a brilliant basketball mind, who thanks to his time playing for the Knicks and Pacers preaches a hard-nosed, defense-minded game to his you his young Warriors' team.
Jackson, the only active NBA head coach with Latino roots – his maternal grandmother was born in the Dominican Republic, has made no excuses over the lack of practices, fatigue and injuries that his team, and the rest of the NBA, faces with an abbreviated season.
The Best Sports Pix of the Week
With no coaching experience in the collegiate or professional level, Jackson traded in his job as a leading analyst on ESPN and ABC to take over a team that has only one postseason appearance since 1994.
Two things Jackson does have is the experience playing for NBA greats like Lou Carnesseca, Lenny Wilkens, Jerry Sloan and Pat Riley and the backing of own players.
"He's done a great job. Even before I came to his team, they had a couple of games that they could have won," Warriors guard Nate Robinson told Fox News Latino. "You can see what the coach has installed for us and want he wants us to go out there and execute. He's doing a phenomenal job with that."
Robinson also praised Jackson for his honesty with players. "He's going to let you know you are playing like crap," Robinson said. "You need that 100 percent honesty across the board. He's a straight forward guy."
With a high turnover rate for NBA coaches and many lackluster ones getting a second chance, Warriors big man David Lee thinks that it's been a long time coming for Jackson to snag a coaching gig.
"He was looking for the right job and he's found it here," Lee said. "He's a great players coach and he's done an unbelievable job with us.
Jobless Mexicana Flight Attendants Pose for Calendar
While public opinion and some NBA analysts predict nothing but doom for the Warriors, Jackson sees his squad being competitive in the long run thanks to young players thanks to players like Stephen Curry and Brandon Rush.
"In my opinion we have the best backcourt in the business. We have an all-star caliber power forward. We have solid role players and we are a defensive-minded basketball team," Jackson recently told reporters. "We are grinding and we've been in position to win in eight of our 10 losses and we've beaten some of the best in the land. The reality is that we're very close to being who I am convinced we are.
When Jackson was hired he predicted this team would be in the playoffs soon. He will definitely have to make one of his biggest assists in proving the naysayers wrong.
Adry Torres, who has covered MLB, NFL, NBA and NCAA basketball games and related events, is a regular contributor to Fox News Latino. He can be reached at elpiloto137@gmail.com or follow him on Twitter: @adrytorresnyc.
Follow us on twitter.com/foxnewslatino
Like us at facebook.com/foxnewslatino