Mark Hunt clubs Antonio 'Bigfoot' Silva by TKO in the first round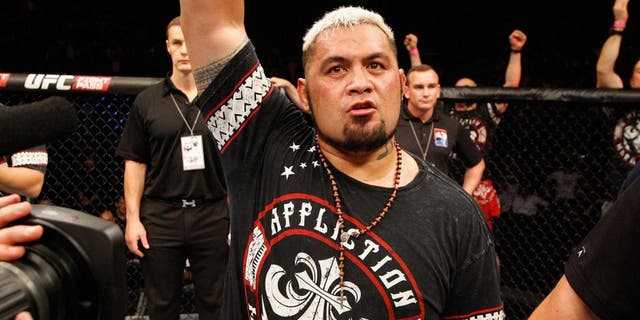 NEWYou can now listen to Fox News articles!
SAITAMA, JAPAN - SEPTEMBER 20: Mark Hunt celebrates after his win over Roy Nelson in their heavyweight bout during the UFC Fight Night event inside the Saitama Arena on September 20, 2014 in Saitama, Japan. (Photo by Mitch Viquez/Zuffa LLC/Zuffa LLC via Getty Images) Mitch Viquez/Zuffa LLC
The first fight was an instant classic, but Mark Hunt had no interest in another war as he stopped Antonio "Bigfoot" Silva with a clubbing right hand to get a TKO finish in the first round of their UFC 193 bout.
Following a lackluster showing in his last fight, where he got bludgeoned over several rounds by Stipe Miocic, Hunt vowed to come back better than ever while putting on one of his best performances in recent memory.
Hunt wasted no time to land the first hard shots of the fight with a pair of leg kicks that reverberated throughout Etihad Stadium as Silva circled away.
Silva finally stepped forward but whiffed on a big overhand right while Hunt stood his ground and continued walk him down.
When Hunt finally saw an opening he unleashed a huge right hand that clobbered Silva directly behind the ear that sent the Brazilian to the canvas.
Hunt followed up with a couple more right hands, but the referee was already rushing in to stop the fight before things got any worse for Silva.
The official stoppage came at 3:41 in the first round with Hunt being declared the winner by TKO.
The victory puts Hunt back on track following a couple tough losses in his recent fights as he settles the rivalry with Silva after their first bout ended in a majority draw.
Hunt remains one of the fiercest knockout punchers on the roster and after focusing on conditioning ahead of this most recent win, the former K-1 kickboxing champion appears to have new life in a growing UFC heavyweight division.