Mariano Rivera: At Peace And In Control, Even In Retirement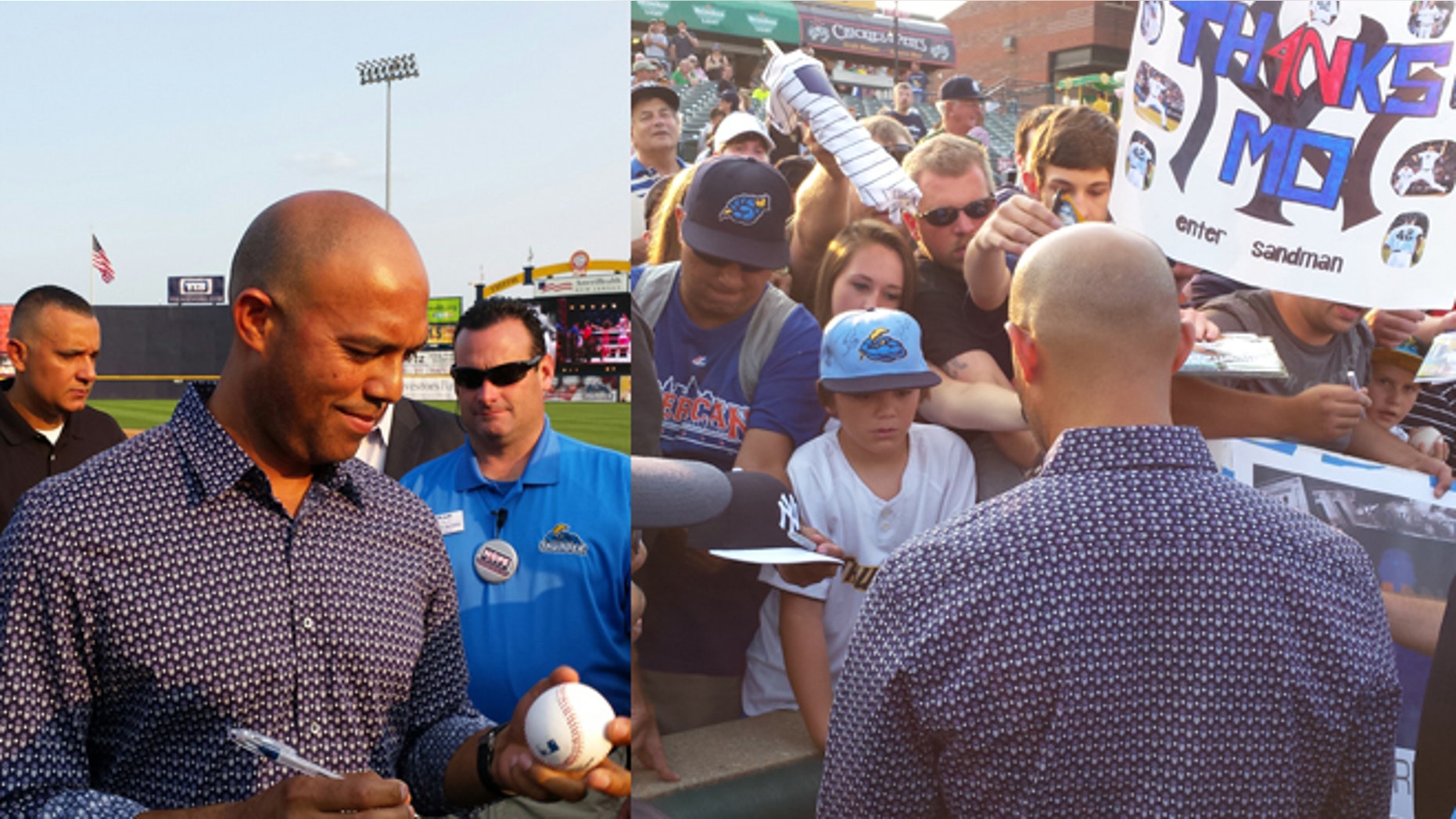 Latino fans who hope they might see one of their own succeed outgoing Major League Baseball Commissioner Bud Selig can scratch one potential candidate's name off the list: retired New York Yankees legend Mariano Rivera.
"No, no – I don't want no commissioner's job," the five-time World Series champion said Thursday night, when he threw out the first pitch at a game of the Yanks' Double-A affiliate Trenton Thunder.
"No, no – I don't want no commissioner's job."
Rivera, who spent nearly his entire career throwing the last pitch of the game not the first, said he still follows the Yankees, but his main focus these days is the Refugio de Esperanza, a once-abandoned church in New Rochelle, N.Y., that Rivera and his wife, Clara, spent three years and more than a million dollars renovating.
Clara is now the pastor at Esperanza, which has been open for four months, and the Riveras have plans to add a learning center for area children and their families.
"That's my passion, helping the community as much as I can, being there for others," Rivera said. "I'll tell you the truth, it's a blessing."
The Riveras were honored before the game by the Medicine Via Philanthropy (MVP) Foundation, which presented them with a $50,000 check for Ezperanza's ongoing efforts.
When asked if he had any advice for Yankee captain Derek Jeter, who is enjoying his own farewell tour this season, Rivera said he hadn't found time yet to settle into the rocking chair made of broken bats that the Minnesota Twins gave him or any of the many other gifts he received last year.
"I have so much stuff that I have to make sure I have the right place for it," he said.
In retirement, baseball's greatest closer appeared as he always did on the mound – at peace and in control.
"After 24 years of playing baseball, it's wonderful," he said. "I would be lying to you if I told you I didn't miss it… But being home, being with my wife and my family, is great."