Marcus Mariota may sit out Titans' preseason finale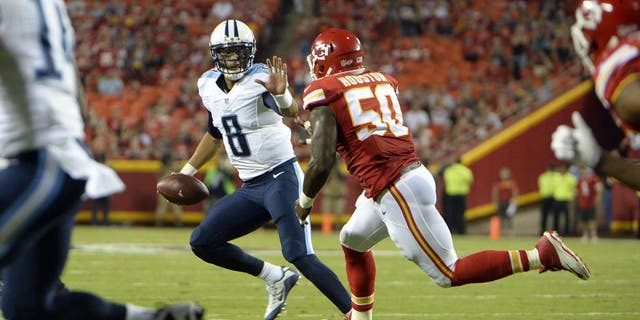 NEWYou can now listen to Fox News articles!
Tennessee Titans head coach Ken Whisenhunt said Saturday the team is considering holding rookie quarterback Marcus Mariota out of the team's preseason finale Thursday against the Minnesota Vikings.
"He's had a good preseason, he's making a lot of progress, and we feel good about where he's going," Whisenhunt said, per the Tennessean. "So you could look at it as another opportunity to get him a little bit more work. You could look at it as an opportunity to not expose him to something that could keep him out of the first game. Not that you would expect that to happen."
Through Tennessee's first three preseason games, Mariota has completed 19-of-27 passes for 252 yards and an interception.
While the team may decide to go the cautious route with the season-opener approaching, the Heisman Trophy winner said he'd have no problem suiting up for Thursday's game.
"I would love to play," Mariota said. "I love the game, and with every opportunity, I will make the most of it."
If Mariota sits out of the preseason finale, his next appearance would be the Week 1 matchup against top overall draft pick Jameis Winston and the Tampa Bay Buccaneers.
Mariota was selected a pick after Winston.
(h/t The Tennessean)