Marcus Mariota keeps showing he should have gone No. 1 over Jameis Winston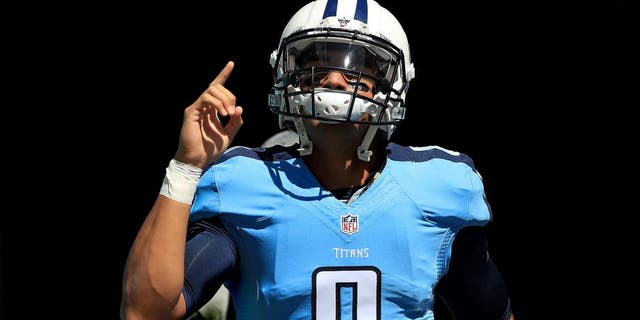 Marcus Mariota is defying history.
Prior to 2015, there'd been only five drafts in NFL history in which quarterbacks had been selected No. 1 and No. 2, and in those the team picking first had made right call every time but one. Andrew Luck over Robert Griffin III. Peyton Manning over Ryan Leaf. Drew Bledsoe over Rick Mirer. Jim Plunkett over Archie Manning. (Plunkett flamed out with his first team but won two Super Bowls with the Raiders while Manning was a fine quarterback for an awful team.) All successes. The only blemish was the Browns going with Tim Couch and leaving Donovan McNabb for the Eagles.
Though we're just a season and a half into the careers of 2015's one-two QB punch, what was hinted at last year has become a full-fledged reality this one: Mariota should have been the No. 1 pick rather than Jameis Winston, and the Bucs will likely rue the day they ever thought otherwise. For now, that's less of a knock on Winston (who had a fine game against the Chicago Bears on Sunday but is often erratic and uneasy) than praise for the former Oregon star, who on Sunday led the Tennessee Titans to the highest-scoring first half for any NFL team this season in what eventually turned into a 47-25 rout of the Green Bay Packers.
He's getting better with every week.
Mariota was 19-for-26 for 295 yards with four touchdowns and no interceptions. The 47 points were the second-highest total for any team in a full game, the most scored against the Packers since 2008 and a total the Titans franchise has topped only once since 1990. It's the third straight 30-point game for the Titans (who also had 26, 28 and 30 in their three previous games, respectively). They haven't done that since 2010, and they didn't finish any game with more than points in the season before Mariota was drafted.
The 23-year-old (whose birthday was just two weeks ago) is also second in the NFL in quarterback rushing yards. But he's not a run-first QB and probably shouldn't be considered a run-second QB either. His speed and elusiveness are effective both when he uses them and when he doesn't. The mere idea of his running is enough to change defensive schemes, opening Tennessee's playbook up to a slew of possibilities.
Those legs stymie the defense, keep him active in the pocket when he isn't rolling out and, above all, make defenses stay honest by spying him -- which then leads to a whole slew of offensive opportunities that Mariota and the Titans have been taking advantage of in his sophomore season. With a rushing attack that ranks third in the league, it becomes a bit of a chicken-or-the-egg question: Has Mariota been flirting with greatness because of DeMarco Murray and Co. or has the run game thrived because of Mariota?
It doesn't much matter now, does it? What matters is that Marcus Mariota just gave Tennessee a signature win, has helped turn around a wayward franchise, has his team back in the division title hunt in a wide open AFC South (that has its 6-3 leader somehow clinging to life despite being, well, bad) and, more important than anything, gives Tennessee what only a few teams in the NFL have -- a young, franchise quarterback to lead his team and the league into the next generation.