Malik Jefferson on Bevo's absence: 'Everybody loves that guy'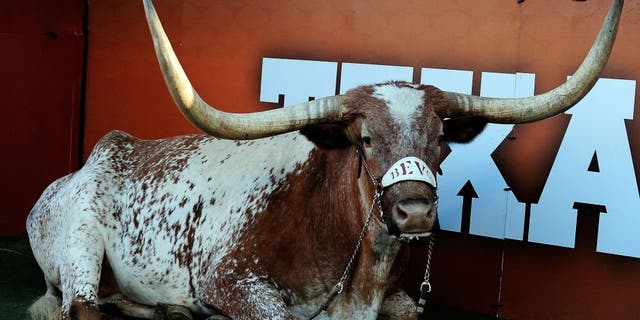 NEWYou can now listen to Fox News articles!
Texas coach Charlie Strong should go to sleep each night thanking his lucky stars that linebacker Malik Jefferson chose to play for the Longhorns.
Not only has the true freshman earned his starting job, he's simply a coach's dream. He buys into team, school pride and he isn't afraid to be a leader despite his inexperience. Jefferson, with six tackles, five solo and a pair of sacks, was part of an inspired Texas defense that helped the Longhorns get a huge 24-17 win over then-No. 10 Oklahoma at the Cotton Bowl on Saturday.
There was one noticeable difference at the game, the absence of Bevo XIV, Texas' steer mascot that usually makes the three-hour drive from Austin to Dallas for the big game. Bevo, however, fell critically ill last week. He was under the watchful eye of veterinarians and was unable to make the game.
Jefferson, though, clearly had the big fella on his mind.
"We love Bevo," Jefferson told reporters after the game. "We were praying for him to get better and if he doesn't, God will take him. It's a sad thing he wasn't here. It was weird because that's tradition and everybody loves that guy."
Everybody is getting to love Malik Jefferson, too.
(h/t Dallas Morning News)
MORE NEWS: Want stories delivered to you? Sign up for our College Football newsletters.