Mailbag: Why Penn State fans shouldn't panic about James Franklin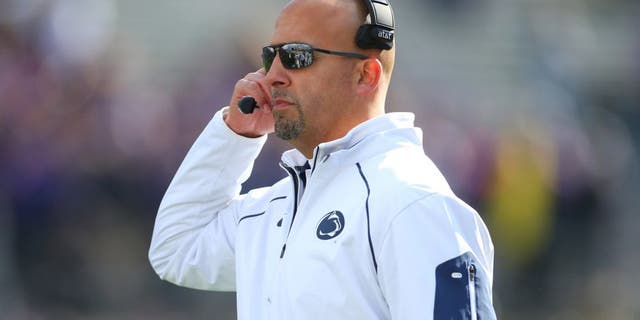 With spring football underway at many programs, it's a good time to check out the mailbag. If you have any college football questions, email them to me or tweet them at me to @BruceFeldmanCFB.
From @DougZerjal: Any pressure on James Franklin and Penn St to crack top 3 in B10 East?
I think there's a bit but that's primarily because Penn State fans don't see their program as a second-division kind of program. Then again, this is a division -- the Big Ten East -- that has arguably three of the top five or six coaches in all of college football. This is only Year Three for Franklin, and this is still a program emerging from hefty NCAA sanctions and scholarship hits. This wasn't the usual first two years of taking over a new head coaching job or even close to it. Realistically, I think we're a few years away from getting a true sense of what James Franklin can do at Penn State.
The biggest plus in Franklin's favor is the extremely impressive work he did at his previous head coaching stop, Vandy. His track record bodes well. He led the Commodores to bowl appearances in all three of his seasons there and delivered Top 25 finishes in his last two years there. Keep in mind Vandy hadn't finished in the Top 25 in the previous 75(!) years prior to Franklin's arrival. And, it's not like the program had any momentum right before he showed up. They were 4-20 the two seasons prior to him taking over and had been to just one bowl in almost 30 years. He also brought in the highest ranked recruiting classes the school's ever had.
In Franklin's first two seasons at Penn State, he's gone 14-12. The guy he succeeded, Bill O'Brien, went 15-9 in his two seasons before leaving for the NFL. O'Brien did a terrific job at a difficult time in Happy Valley. But let's provide some context to this.
Last year, Penn State faced what proved to be a stacked schedule, playing seven teams that won 10 games or more (six of those losses came against those 10-win teams). In the two seasons before Franklin came to State College, they faced five teams combined that won 10 games or more. It probably would've helped the Nittany Lions' cause if they were still in the Leaders Division, which would mean not being in the same side as Mark Dantonio and Jim Harbaugh. The Leaders also had the three most worst programs in the conference in recent years -- Purdue, Indiana and Illinois.
Beyond that, this is a program that had been sliding before the Jerry Sandusky scandal blew up. Penn State hadn't had a Top 25 finish since 2009. The sanctions that the NCAA imposed back in 2012 severely hampered the team's depth that impacts a program beyond just how things look on Saturdays.
The biggest issue for Penn State has been in the trenches. When Franklin took over the program there was only one scholarship offensive tackle in the sophomore, junior and senior classes combined, and only nine scholarship O-linemen in the entire program (not including the two D-linemen who were moved in the spring of 2014). Those nine are about half of what most program try to keep.
Obviously, recruiting is key in building and maintaining a program. You can take recruiting rankings with a few grains of salt, but these numbers are still eye-opening. From 2011-2013, the average rankings from Rivals, Scout and 247 were in 2011 (33rd); 2012 (49th) and 2013 (41st). That's an overall average of 41st for those three years. In Franklin's three signing classes at Penn State, they were ranked 2014 (24th); 2015 (14th) and then this year, (12th).
The recruiting numbers in Pennsylvania of Top 10 ranked prospects is also telling. From 2011-13, the Nittany Lions signed depending on whose rankings you use: a total of four according to Rivals, or three during those three classes combined according to 247 and Scout. Those numbers have jumped under Franklin: 10 according to Rivals; 12 according to Scout and 247. That is a significant jump.
It'll be interesting to see where Penn State heads from here. There's been significant turnover on the staff this off-season. Franklin has two new coordinators and a new offensive line coach. After three years of Christian Hackenberg, the Nittany Lions are searching for a new QB. As I wrote last week, expect more RPO concepts with the arrival of new OC Joe Moorhead.
The really good news for Nittany Lion fans: Saquon Barkley is back after a superb freshman year that included him rushing for 194 yards at Ohio State. Better still, Penn State will finally be back to having 85 scholarship players.
From @Gator_Grind: will Florida repeat as SEC East champs?
I know Jim McElwain's team slipped in the second half of the 2015 season, barely surviving against the likes of struggling Vandy, FAU and South Carolina and then losing by double-digits to FSU, Alabama and Michigan. The offense clearly tailed off after Will Grier was suspended. But I wouldn't write the Gators off. The Gators have a few solid options at QB in 21-year-old Luke Del Rio and former Purdue starter Austin Appleby. From what I've heard inside the program, both are very well regarded.
Still, UF returns only 11 starters back on both sides of the ball -- the fewest in the SEC East. But there's still plenty of talent on the defensive side, especially in the secondary, even with the departure of Vernon Hargreaves III.
My pick to come out of the East this season is Tennessee. The Vols have the most starters back in the division -- €"17, an experienced QB in Josh Dobbs and two stud RBs. They also host UF in Knoxville this year. The Gators' schedule also doesn't set up that well in 2016: Not only do they have to go to Knoxville but they also have to visit FSU. They do get LSU at the Swamp, but this should also be a much improved Tigers team compared to the 2015 version.
From @IwillreptheVill: What is your ceiling for University of Louisville this year? Expected leap for Lamar Jackson? NY6 possibilities?
I'm buying Lamar Jackson and the Cardinals. Big. Jackson looked terrific against a very athletic Texas A&M defense in the Music City Bowl, rushing for 226 yards and passing for 227. The 6-3 sophomore definitely needs more polish as a passer and a firmer grasp of defenses, but he's in good hands with Bobby Petrino. Jackson's emergence creates an interesting dynamic with QB Reggie Bonnafon, another remarkable athlete with a 43.5-inch vertical who will become an X-factor of sorts at WR/RB and some QB, I suspect.
The Cards have 18 starters back -- €"more than anyone in the ACC and tied for most in the country. They have a lot of speed, especially on defense. They'll miss DL Sheldon Rankins, but there's plenty of talent remaining.
When I look at dark horses for teams that could make a surprising run at a Playoff spot, Louisville is one I'm looking closely at. We'll know just about everything about this team by Oct. 2. They get FSU in Louisville this year in mid-September and then visit Marshall before a big trip to Clemson on Oct. 1. Later in the year, they do have to play a talented Houston team which could also be in the Playoff spot mix.
Clemson does have to visit Ga. Tech the week before the Louisville game, however, and playing a Paul Johnson team is never fun the week before going up against a very fast opponent.