Maidana Has Clear Message For Mayweather: 'Come Fight Me Like A Man'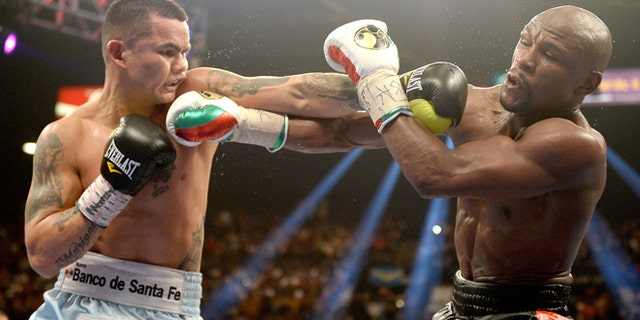 NEWYou can now listen to Fox News articles!
Marcos Maidana's message to Floyd Mayweather Jr. is simple: "Come and fight me."
"Fight me." Two words that that the 31-year-old Argentinian boxer repeated over and over again during a media call Tuesday in the lead-up to his much-hyped rematch against Floyd "Money" Mayweather at Las Vegas' MGM Grand on September 13.
"This fight I'm not going to respect him," Maidana said. "I'm going to make him fight, make him fight like a man and stop talking like a little b**** and fight."
Maidana and trainer Robert Garcia both reiterated throughout the media call that they were confident the Argentinian pugilist could top the undefeated Mayweather as long as he could force the American fighter to box and not allow him too much freedom of movement to dance around during the fight.
This strategy is similar to what Maidana employed for the first six rounds during the fighters' first meeting back in May, which Mayweather ultimately won in a controversial majority decision. And while Mayweather has criticized Maidana's style – comparing it to mixed martial arts fighting – there is no denying that it gave the undefeated boxer the toughest fight of his life.
Cut over his eye and temporarily blinded by a head butt in the fourth round, Mayweather was forced to rally in the last half of the fight to avoid losing for the first time ever in the professional realm (he was beaten once on a controversial decision in the 1996 Olympics).
Punch stats by Compubox showed Mayweather landing 230 of 426 punches to 221 of 858 for Maidana, giving the Argentinian the most punches landed by any fighter against Mayweather in 38 fights where punch stats were compiled.
"I don't see why we can't get what we got out of six rounds, out of 12 rounds this time," Garcia said.
Maidana's approach – to corner the wily Mayweather, get him on the ropes and force him into combat – is not a new one, but has not panned out well for other fighters taking on Mayweather. Unlike Ricky Hatton – who got TKO'ed in the 10th round back in 2007 – Maidana went the full 12 with Mayweather, only lost in a controversial decision and for this rematch has both a time and an age advantage on the 38-year-old Mayweather.
Unlike the rushed, five-week training camp that Maidana held before May's fight, the so-called "self-sufficient gaucho" was able to hold a full, eight-week camp and work with Garcia to reduce the weak points in his fighting that got him in trouble during his first match with Mayweather.
"I'm very confident with the work they've given me and what's going on in the gym," Maidana said.
Maidana said that he won't be caught off guard this time about the gloves they'll be using when the bell rings in September. During May's fight, Maidana complained about being forced to fight with gloves he didn't want to use when the two camps engaged in a standoff over gloves at the rules meeting a day earlier.
''If I would have had my gloves I would have knocked him out,'' he said following the fight. ''They took away my advantage.''
This time, however, it appears that there should be no controversy surrounding the gloves as Mayweather Promotions CEO Leonard Ellerbe made clear Tuesday that Maidana would be wearing the Everlast Powerlock gloves agreed upon before the fight.
"We agreed to the fight, we can't go back and say anything about the gloves," Garcia said. "We agreed to those gloves. There are no excuses."
Gloves, age, training time aside, Maidana made sure that those listening knew that the most important factor in the fight will be if Mayweather shows up to fight and not dance.
"In this fight I hope he does fight with me like a man and not run around and not try to fight me," Maidana stated.
The Associated Press contributed to this report.