Magic's Bismack Biyombo to play in NBA Africa Game 2017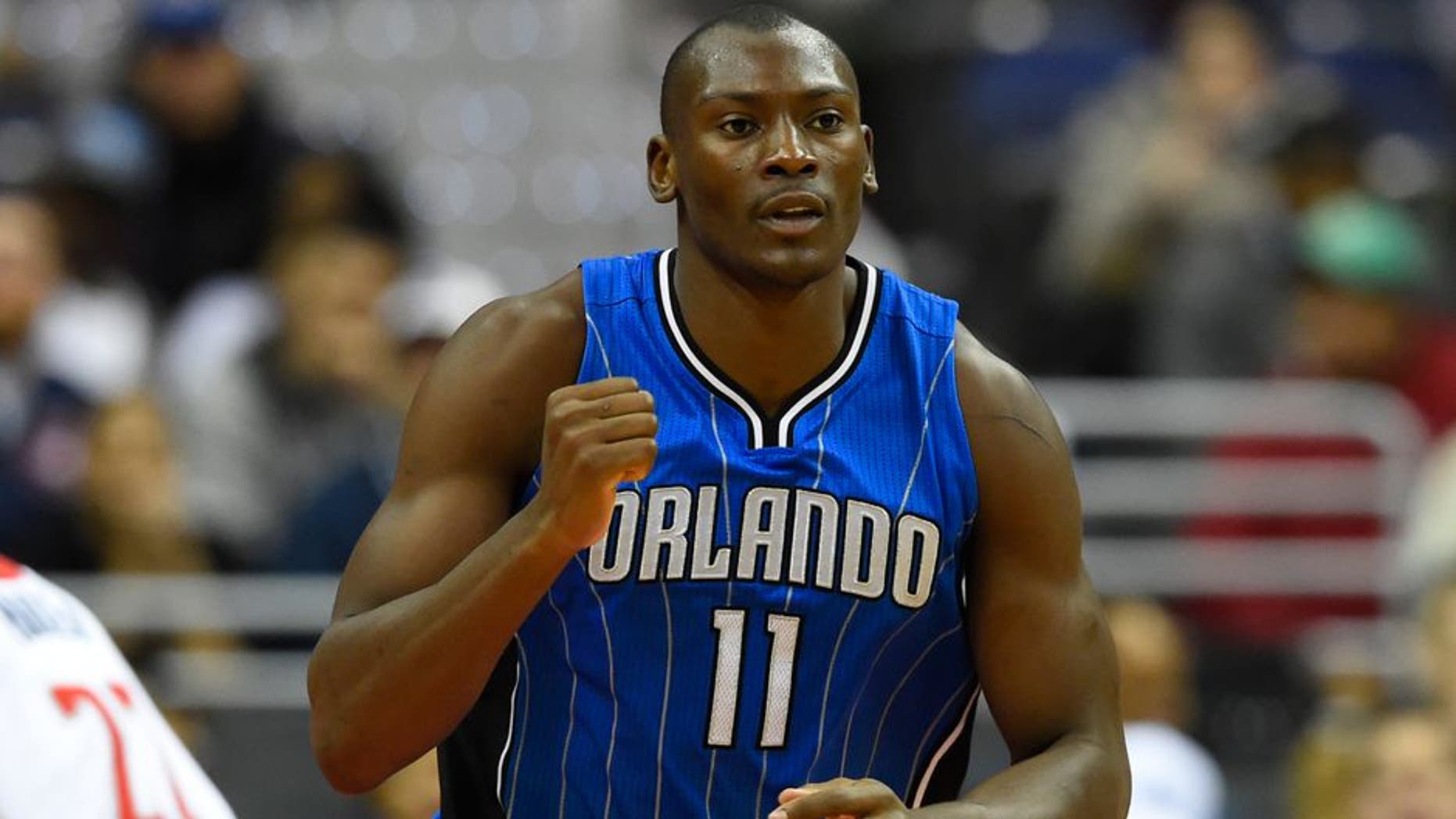 ORLANDO MAGIC PRESS RELEASE
ORLANDO, Fla. -- The National Basketball Association (NBA) and the National Basketball Players Association (NBPA) announced Thursday the full rosters for NBA Africa Game 2017, the leagues second game in Africa, which will take place Saturday, Aug. 5 at the Ticketpro Dome in Johannesburg, South Africa. Tickets are available for fans by visiting ticketpro.co.za.
NBA Africa Game 2017, which will take place following the 15th edition of Basketball without Borders (BWB) Africa, will once again feature a Team Africa vs. Team World format and will be played in support of UNICEF, the Nelson Mandela Foundation and SOS Childrens Villages South Africa (SOSCVSA). The game will air live at 5:00 pm CAT in sub-Saharan Africa on Kwess TV, Internet and mobile platforms, including Kwes Free Sports, Kwes Sports, Kwes partners Soweto TV (South Africa), Canal+ Afrique (Francophone Africa) and other select free-to-air channels, Kwesesports.com, and the Kwes app.
Team Africa, comprised of players born in Africa and second-generation African players, will be led by team captains Luol Deng (Los Angeles Lakers; South Sudan) and Thabo Sefolosha (most recently with the Atlanta Hawks; Switzerland; parent from South Africa). Deng and Sefolosha will be joined by Bismack Biyombo (Orlando Magic; Democratic Republic of the Congo), Clint Capela (Houston Rockets; Switzerland; parents from Angola and Congo), Gorgui Dieng (Minnesota Timberwolves; Senegal; BWB Africa 2009), Joel Embiid (Philadelphia 76ers; Cameroon; BWB Africa 2011)*, Serge Ibaka (Toronto Raptors; Congo), Luc Mbah a Moute (most recently with the LA Clippers; Cameroon; BWB Africa 2003), Salah Mejri (Dallas Mavericks; Tunisia), Emmanuel Mudiay (Denver Nuggets; Democratic Republic of the Congo), Victor Oladipo (Indiana Pacers; U.S.; parent from Nigeria) and Dennis Schroder (Hawks; Germany; parent from The Gambia).
It was an honor and privilege to play in the first NBA game in Africa in 2015, Biyombo said. Im looking forward to another great game in August.
Team World, comprised of players from the rest of the world, will be led by team captains Dirk Nowitzki (Mavericks; Germany) and Kemba Walker (Charlotte Hornets; U.S.). Nowitzki and Walker will be joined by Leandro Barbosa (most recently with the Phoenix Suns; Brazil), Jaylen Brown (Boston Celtics; U.S.), Wilson Chandler (Nuggets; U.S.), DeMarcus Cousins (New Orleans Pelicans; U.S.), Andre Drummond (Detroit Pistons; U.S.), Courtney Lee (New York Knicks; U.S.), Kyle Lowry (Raptors; U.S.), CJ McCollum (Portland Trail Blazers; U.S.) and Kristaps Porzingis (Knicks; Latvia).
Also participating in the game will be NBA head coaches Alvin Gentry (Pelicans), Michael Malone (Nuggets) and Erik Spoelstra (Miami Heat), assistant coaches David Adelman (Magic), Pat Delany (Hornets), BJ Johnson (Rockets), Sidney Lowe (Washington Wizards), Jamahl Mosley (Mavericks), Patrick Mutombo (Raptors) and Lloyd Pierce (76ers), Heat assistant GM Adam Simon, Raptors President Masai Ujiri (Nigeria), athletic trainers Keith Jones (Rockets) and Ed Lacerte (Celtics), as well as NBA referees James Capers and Zach Zarba.
NBPA Executive Director Michele Roberts and NBA Commissioner Adam Silver will attend the game along with NBA Global Ambassador Dikembe Mutombo (Democratic Republic of the Congo), 14-year NBA veteran and NBPA Secretary-Treasurer James Jones, former NBA players Shareef Abdur-Rahim, Elton Brand, Brian Cardinal and Lionel Simmons, and former WNBA player Rushia Brown.
The sold-out NBA Africa Game 2015, the first NBA game on the continent, took place Aug. 1, 2015 at Ellis Park Arena in Johannesburg. There have been more than 70 current or former NBA players from Africa or with ties to the continent, including NBA Africa Ambassador Hakeem Olajuwon (Nigeria) and Dikembe Mutombo, both of whom played in NBA Africa Game 2015.
For more information, fans can visit www.NBA.com/Africa, the leagues official online destination in Africa, and follow the NBA on Facebook (NBA Africa) and Twitter (@NBA_Africa).
NOTE: * -- won't play