Lower-body injury leaves Wideman day-to-day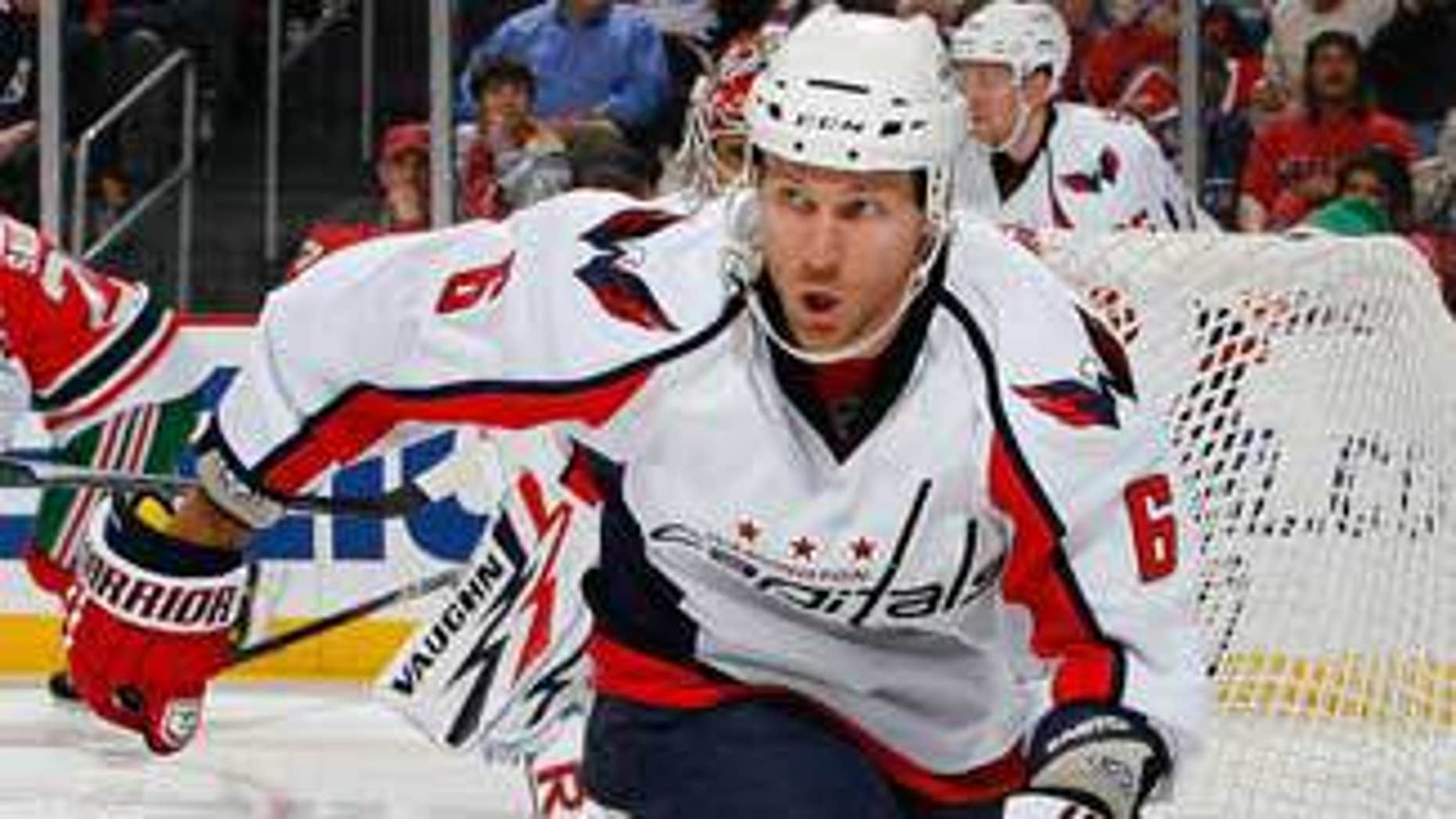 The Washington Capitals are already without two of their top defensemen, but they could be short a third Thursday night against the Columbus Blue Jackets.
Dennis Wideman did not practice with the team Wednesday after leaving the game early Tuesday and Capitals coach Bruce Boudreau told reporters the veteran defenseman is day-to-day with a lower-body injury.
Wideman left Washington's 3-2 shootout loss to Carolina late in the second period after a collision with Hurricanes forward Tuomo Ruutu and did not return. The Capitals are already without No. 1 defenseman Mike Green, who has missed 20 of the past 22 games because of a pair of head injuries (and one confirmed concussion), and veteran Tom Poti, who has played only 21 games this season because of multiple injuries and none since Jan. 12 because of a lower-body issue.
The Capitals traded for Wideman on deadline day in part because of the injuries to Green and Poti. Washington also added Scott Hannan from Colorado in late November to help bolster the blue line corps.
Wideman has been logging a lot of minutes for the Capitals since the trade -- he played no fewer than 22 in his first 13 games in a Washington uniform. He has 1 goal and 7 points in 14 games since the trade.
"He moves the puck well out of his zone, he's calm under fire, he's done a lot of great things for us," Boudreau told reporters. "Power play is one of the places [he'll be missed] because [what] coincided with him coming here was Mike Green going down. It was an easy slide into that situation. If he can't play tomorrow, we'll find somebody else."
Tyler Sloan has remained on the team's roster despite ostensibly being the team's No. 9 defenseman, and is likely to take Wideman's place on the lineup card. Sloan has played in 30 games for the Capitals this season, but only 11 since Dec. 26. He has also played less than 17 minutes in each of his 30 appearances.
Two guys who will likely see increased ice time are rookie John Carlson and Karl Alzner. Washington's young duo has become a trusted pairing for Boudreau despite neither having reached his 23rd birthday yet.
Carlson led the Capitals in ice time against the Hurricanes with a career-high 28:12. Alzner's 26:49 was second on the team and also the most he's skated in an NHL game.
Boudreau did not take issue with Ruutu's hit on Wideman.
"You know what, he was falling," Boudreau said. "I don't think it was a high hit or anything. When you're falling, you become vulnerable in a lot of positions. You're trying to protect your fall and everything else. It's just an unfortunate accident."