Louis Smolka 'still in shock' after getting bumped to UFC main event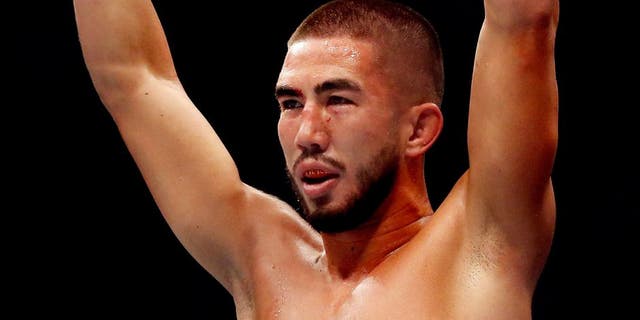 NEWYou can now listen to Fox News articles!
Less than two weeks ago, Louis Smolka was traveling to Ireland to kick off the main card for the UFC Fight Night show in Dublin and now he's in the main event against Paddy Holohan for the show airing on UFC Fight Pass this Saturday.
The original main event was cancelled when Joseph Duffy suffered a concussion in training last week that forced doctors to recommend he was pulled from the fight so his bout with Dustin Poirier was cancelled.
That happened a week after Stipe Miocic suffered an injury forcing the UFC to pull his heavyweight matchup against Ben Rothwell from the card as well.
Smolka and his team were just starting a late night training session in Dublin when Twitter actually broke the news to them that Duffy was out and the UFC card needed a new main event.
"I was training Louis in the training room and I stopped when Louis was warming up so I went on Twitter and I saw someone tweet that (Joseph) Duffy is out and hurt," Smolka's coach Charles Kipilii told FOX Sports from Ireland. "That's how we found out in the training room. The UFC hadn't called or anything yet."
The UFC ended up making that call just a few minutes later to inform Smolka that he was getting bumped up the card once again and now his three-round fight with Holohan will serve as the main event of the evening.
"I think I'm still in shock," Smolka said. "I didn't really believe it at first. I just thought it was too good to be true. I was like 'there's no way we're main event now, there's no way'. I was just starting the main card when I came out here and then I went from co-main to main event in a couple of days. It's crazy. Life does not suck right now.
"It's pretty amazing. It's so unexpected. I never thought that this was going to be what happened on my trip. I guess the luck of the Irish is real. I love this place it's awesome."
This will be the first UFC main event for both Smolka and Holohan, but the Hawaiian-based flyweight is already embracing his role as the ambassador to sell the show to fans and viewers across the world.
"I'm gonna have to dress up a little bit, put on a suit and tie and pretend to be Conor McGregor to try and sell this," Smolka said with a laugh. "I'll start talking and just saying some outlandish stuff."
All jokes aside, Smolka is genuinely excited to headline his first UFC show, but being the final fight of the night won't stop him from treating this matchup as business as usual.
He's been preparing for Holohan for weeks already and the way Smolka plans to win the fight isn't predicated on when they actually face off on the card.
"It's the same fight. Nothing changes," Smolka said. "I'll just be going out there a little bit later and that locker room will be kind of lonely warming up."
As for fans who might be feeling a little jaded after losing both the main and co-main event to the card in the last week, Smolka promises for the people who do show up to the arena on Saturday night that he's going to put on a show with Holohan before putting another loss on his record when it's all over.
"You have two, young, hungry up and coming fighters and we're both trying to make a name for ourselves," Smolka said about the matchup. "We both have identical records, we have almost identical body types, it's going to be an interesting fight. You're in for a good old fashioned stick fight since we're both tall and lanky and I will win by complete, utter and total domination."