Los Angeles Rams reportedly make Aaron Donald league's highest-paid defender in contract extension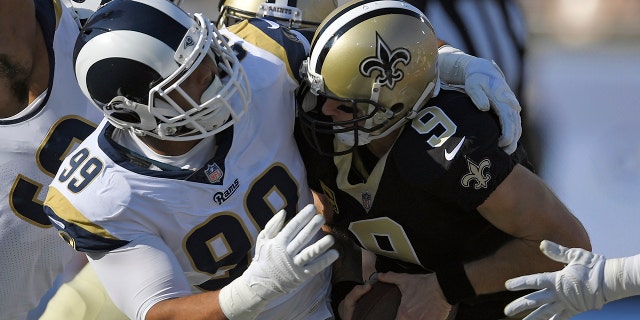 NEWYou can now listen to Fox News articles!
In a week where two mega contract extensions made waves throughout the NFL, the Los Angeles Rams decided to add a third to the mix, agreeing to a new deal with defensive lineman Aaron Donald.
The Rams and Donald agreed to a six-year extension, the team announced Friday. Multiple sources told FOX Sports the deal is worth $135 million, which would make him the league's highest-paid defender at $22.5 million per year. ESPN reported he will make $87 million guaranteed.
Donald, 27, has certainly made an impact on the defensive side of the ball for the Rams since he was drafted out of Pittsburgh in 2014. Over the last four years, he only missed two games and recorded 39 sacks – leading all interior lineman in that span. He's recorded a season-high 11 sacks in 2015 and 2017. Donald was named the 2017 Defensive Player of the Year by the Associated Press.
The Rams went 11-5 last season and made their first playoff appearance since 2004. Los Angeles is poised to make another run after the team bolstered its defensive unit with three-time All-Pro lineman Ndamukong Suh, All-Pro cornerbacks Aqib Talib and Marcus Peters.
The deal comes in the same week where the Green Bay Packers made quarterback Aaron Rodgers the highest-paid player in the league with a reported four-year, $134 million contract extension. The New York Giants made Odell Beckham the league's highest-paid receiver with a reported five-year, $65 million extension.
Oakland Raiders linebacker Khalil Mack is another player who hopes to garner a contract extension. He has held out of Raiders camp and preseason games over the contract dispute.