Los Angeles Dodgers officially unveil 'Vin Scully Avenue'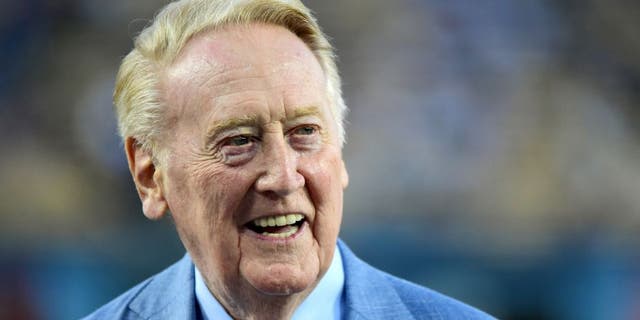 Vin Scully is a Los Angeles icon, a man whose legacy will live on long after his 67th and final season calling Dodgers games ends later this year.
On Monday, the Dodgers held a ceremony to officially change the name of the street leading up to Dodgers Stadium from "Elysian Park Avenue" to "Vin Scully Avenue." The move had been approved by the Los Angeles City Council in January, with a savvy Twitter user first noticing the unofficial change late last week.
Thankfully the move is now official, with several local dignitaries in attendance for Monday's ceremony, including the man of the hour: Vin Scully.
Scully spoke to the crowd, and when he was asked what he'll miss most about calling Dodgers games, well, Scully gave the most Vin Scully answer possible.
"The roar of the crowd," was his response.
Thankfully Scully has a few more months to enjoy that roar, and fans still have a few more months to enjoy Scully as well.
The Dodgers' home-opener is set for Tuesday against the Diamondbacks.