Los Angeles Angels' Albert Pujols Reaches 2500 Hits, 1500 Runs In Win Against Minnesota Twins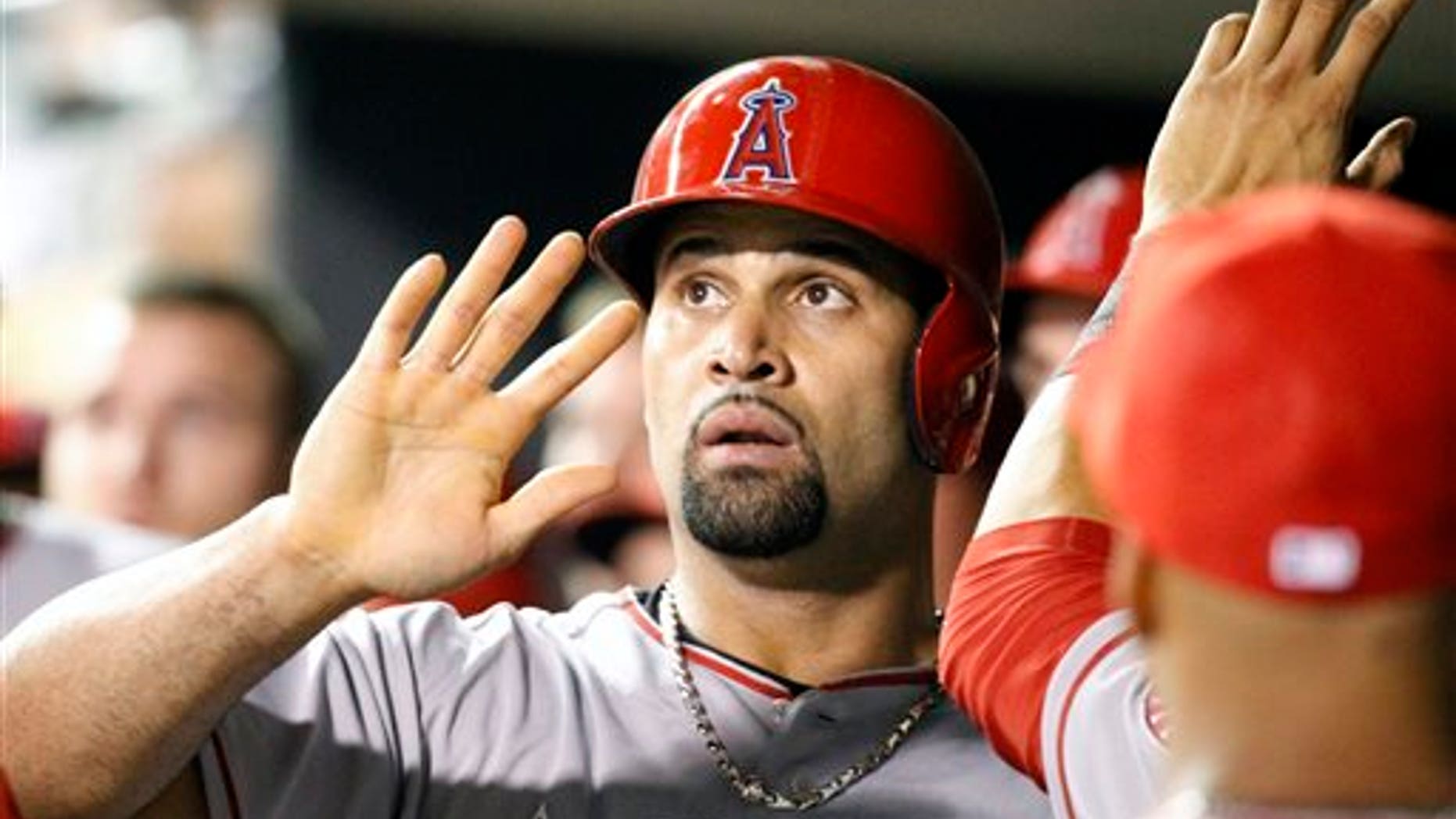 MINNEAPOLIS (AP) – Albert Pujols' batting averages and home run totals aren't as gaudy as they used to be. He's still helping his team win games, though, and that's just fine with him.
Pujols homered, hit a tie-breaking double in the ninth and reached a couple of career milestones to lead the Los Angeles Angels over Minnesota 8-5 on Saturday night for their third straight win over the Twins.
The 34-year-old slugger's go-ahead double was his 2,500th hit, placing him 98th all-time and fifth among active players. He hit a solo homer in the third off Phil Hughes for a 3-2 lead, scoring his 1,500th run on his 25th home run this season.
"It was just a great accomplishment, but at the same time it's just something I don't get caught up in," Pujols said. "My job is to help our ball club to win and it was pretty special because I was able to do that tonight."
After 10 stellar seasons in St. Louis, Pujols has yet to hit .300 for a season in three years with the Angels. And he's certainly not close to the 40-plus homerun pace he kept during some of his seasons with the Cardinals. But his .274 batting average is still among the team's best, and his 87 RBIs are second only to Mike Trout's 100.
"You hear Mike Trout a lot, you hear Miguel Cabrera a lot, but he's quietly been doing it," Howie Kendrick said of Pujols. "He's a big piece of our team, he's been driving in runs for us. And that's going to be something that we're going to need down the stretch, is his experience."
With the score 5-all in the ninth and two on, Pujols doubled to deep left off Jared Burton (2-5) and scored on Kendrick's single against Anthony Swarzak.
"Albert got one up and did what he's done 1,000 times in this game and he got a big hit for them," Twins manager Ron Gardenhire said.
Joe Smith (7-2) pitched a one-hit eighth and Huston Street finished for his 37th save in 40 chances.
After one-out singles by Aaron Hicks and Chris Parmalee, Brian Dozier grounded into a game-ending 3-6-1 double play. Gardenhire challenged the call by first base umpire John Tumpane, and after a delay of about 1 minute, 20 seconds, the call was upheld.
Eduardo Escobar and Chris Parmelee homered for Minnesota, which led 5-3 after seven innings.
The Angeles tied the score in the eighth against Casey Fien when Pujols singled, Kendrick tripled and Erick Aybar hit a sacrifice fly.
Hughes allowed three runs and seven hits in seven innings, walked none and struck out eight. With 165 strikeouts, he tied his career best with the New York Yankees in 2012.
"It's always tough," Hughes said. "Look for those three facets of the game every time out: good start, bullpen to step up and score a few runs. Unfortunately for us the last few games here, one or two of those things hasn't been there."
Follow us on twitter.com/foxnewslatino
Like us at facebook.com/foxnewslatino