Lorenz Larkin: Albert Tumenov won't show me anything I haven't seen before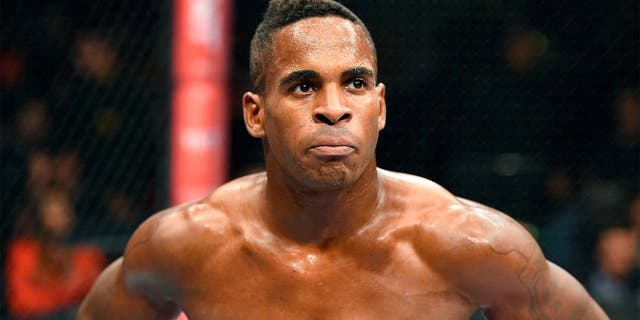 NEWYou can now listen to Fox News articles!
Just after Lorenz Larkin knocked out Santiago Ponzinibbio in June, he started seeing reports online that heavy-handed Russian Albert Tumenov was calling him out for a fight.
Larkin didn't take offense to the call-out but also didn't really pay it much attention either.
Not because Tumenov wasn't a worthy opponent but rather that Larkin is never too hard to find, and if the UFC wanted the matchup all they had to do was give him a call and his answer is always 'yes.'
"He called me out after my fight. I saw people started tagging me (on Twitter) and I didn't pay it any attention. There's no point in calling me out. I've never turned down a fight the UFC gave me," Larkin told FOX Sports. "Once it's a fight, that's going to be the fight.
"It's nothing I'm going to say 'this guy doesn't deserve to fight me.' I do this because I love to do it. You call me out, if it makes sense to the UFC it makes sense to me."
Larkin watched Tumenov before they were scheduled to fight, and he enjoys a good knockout like anybody else in the sport.
Most recently, Tumenov has gone on a four-fight win streak, with all of those bouts ending by way of knockout or TKO. Larkin isn't the kind of fighter to insult anybody else's wins, but when breaking down Tumenov's path to victory, he can't help but find flaws in his performance as well as the way his opponents have reacted to his pressure heavy attacks.
"He comes in real strong. I haven't really seen no diversity from him. He's not really a super technical type of fighter. He just comes in hard and if you're not ready for it, guys kind of fold," Larkin said. "I know he's good but I haven't seen anything like 'ooh I have to watch out for this and I have to watch out for that.' I just have to expect a guy that's going to come out slugging.
"When he fought Alan Jouban (at UFC 192), Alan Jouban was looking good but he showed Alan's weakness and that's pressuring him real hard and getting him to the fence and Alan couldn't fight like that. I've seen hard strikers in the past and I'll be ready for it. I've been training real hard for this fight. I expect him to come out tough but I don't expect him to show me something I haven't seen before."
Larkin is no stranger to knockouts -- he's finished 10 career opponents in that fashion -- but he prefers a more technical approach to his fights.
He knows he could just rush across the cage and try to overwhelm someone with strikes, but Larkin prefers to set up his combinations and look for openings to land his punches and kicks. Larkin knows eventually just trying to pressure someone into wilting will backfire, and that's why he's not exactly scared of what Tumenov brings into their fight on Saturday night.
"I feel like I have more tools than him and I'm a smart fighter. I can go into every fight and just pressure the s--t out of my opponent and try to swing for the fences and try to clip somebody. Some guys you can do that to, but when you get to the upper echelon of people, you're not going to be able to do that," Larkin said.
His fight this weekend with Tumenov will be Larkin's third since dropping down to welterweight. It will also be a showcase for the veteran fighter as he competes on the main card of the UFC 195 pay-per-view.
Larkin is featured on the same card as welterweight champion Robbie Lawler, who fights in the main event against Carlos Condit. Larkin actually defeated Lawler in 2012 while both were fighting at middleweight, but he's not trying to jump the line of contenders just because he has a win over the current champion.
Actually, Larkin finds himself rooting for Lawler to succeed and he knows if it's meant to be, they'll meet again one day.
"I do have a win over Robbie, but it was a while ago. I've always [been] happy for Robbie that he's been doing so well in the UFC. I'm genuinely happy for him," Larkin said. "So I want him to hold the belt and I want to eventually get to the point where I'm in title contention and that's going to be a good story and a good fight."
Larkin's short-term goals are more about putting on the kinds of fights people want to see and the UFC is willing to reward with a nice bonus check at the end of the night. He'd much rather have that accomplishment on his record than a number next to his name claiming that he's one of the top-15 fighters in the world.
"I feel like every fighter wants to fight for the belt but at the end of the day I like fighting. That's why I'm in this sport. I want to fight exciting fights with people who are exciting. Fights that people want to see. I just want exciting fights," Larkin said.
"If the night goes how I want it to go, I'm trying to win both bonuses. I want 'Fight of the Night' and 'Performance of the Night'. That's a lot of burritos and hamburgers."