LOOK: Oakland's win probability took a nose-dive with one blunder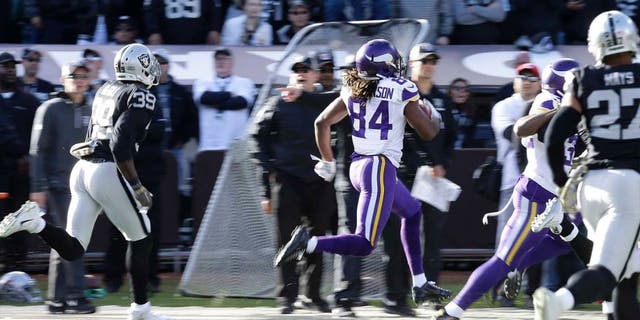 Oakland looked like they'd be in control in Week 5. Then, all of a sudden... Ben Margot Associated Press
The Raiders were cruising toward a fifth win after back-to-back second quarter scores.
Then, statistically speaking, it all fell apart. Just look at what happened to their win probability when Cordarrelle Patterson brought a kick back for a 93-yard score, courtesy of this graphic from Visual Insights:
That Patterson kick return was crushing in so many ways. It came with less that two minutes to play in the first half. And it allowed the Vikings to start second half play with a six-point lead.
Mathematically speaking, Oakland's winning hopes would never rise that high again.
They finally broke down on a late touchdown run by Adrian Peterson and made a comeback close to impossible.
(h/t Visual Insights)