Logan carries Lumberjacks past Montana State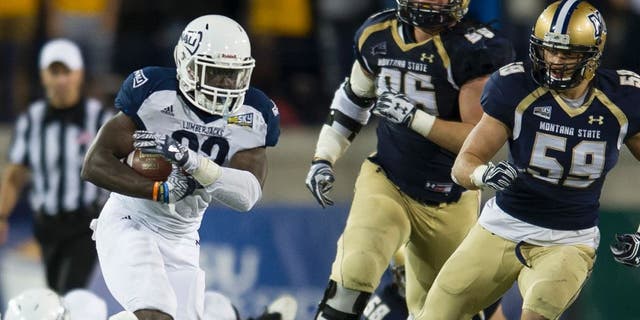 BOZEMAN, Mont. -- Joe Logan ran for 147 yards, including touchdown runs of 65 and 4 yards, to lead Northern Arizona to a 20-14 win over Montana State on Saturday night.
The Lumberjacks (1-2 Big Sky, 2-4 overall), who were picked to win the Big Sky, built a 20-0 lead in the third quarter in earning their first league win of the season as they cling to FCS playoff hopes.
Luke Nguyen preserved the win when he forced a fumble and Xavier Stephens recovered after Montana State drove to the Lumberjack 35 with 24 seconds to play.
"It was a game of momentum tonight," Lumberjacks coach Jerome Souers said. "I thought we did a great job of establishing ourselves in the first half, we were moving the ball but weren't getting paid with enough points.
Montana State (0-3, 2-4) struggled offensively for nearly three quarters. Starting quarterback Tyler Bruggman was replaced early in the game, but backup Chris Murray wasn't much more effective. Bruggman returned later in the half only to see Murray start the second half and lead the Bobcats on two scoring drives.
"Our defense did a great job across the board," Souers said. "This is a good team and it is tough to play here. To come in here and get the stops we were able to get and keep the clock moving on offense was big. Our special teams was much better today, too."
Blake Kemp, filling in for injured starter Case Cookus, was 25-for-40 passing for 195 yards. Montana State's Chad Newell scored Montana State's first touchdown on a 9-yard scamper in the third quarter, while Murray ran in the second from 20 yards out.
The game was scoreless until 11:14 to go in the second quarter when NAU kicker Griffin Roehler connected on a 37-yard field goal. Roehler hit from 31 yards in the third quarter to extend the lead to 13-0.
TAKEAWAY
NAU gets a key win as it awaits the return of pre-season All-Big Sky quarterback Cookus. Cookus was injured in a 45-30 loss at home to league-leading Eastern Washington.
Montana State continues to try to re-build from a 5-6 season. The Bobcats played 12 freshmen against NAU.
NEXT UP
NAU hosts Idaho State. The Bengals was idle this week and will go into the game with a 1-1 league record.
Montana State travels to Weber State. The Wildcats were 2-2 going into Saturday night's game against Portland State.