Lightning blanked in shootout, drop hard-fought battle to Wild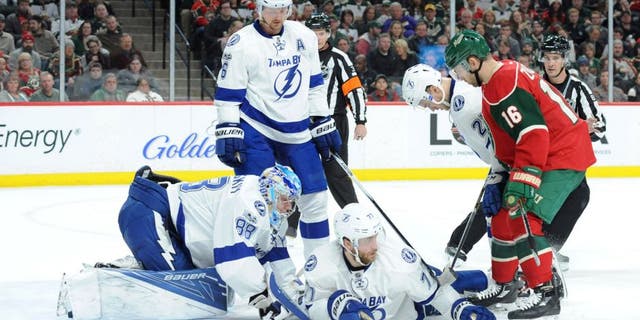 ST. PAUL, Minn. (AP) -- The Minnesota Wild have slipped into a long slump almost every winter this decade.
Bad habits can be broken, though. The Wild have been remarkably slump-proof this season.
Mikko Koivu got the lone goal in the shootout, and Minnesota beat the Tampa Bay Lightning 2-1 on Friday night to avoid losing consecutive home games for the first time this season.
Koivu used a masterful left-right move to flip the puck past Lightning goalie Andrei Vasilevskiy, who denied Jason Pominville and Zach Parise before and after Koivu's try. Brayden Point, Jonathan Drouin and Nikita Kucherov all went wide right with their shootout attempts against Devan Dubnyk.
"You have to be able to win those tight ones, and we showed that we're capable of doing that," said Parise, who had five shots on goal and sparked a re-energized attack in overtime after a sloppy third period by the Wild.
Nino Niederreiter scored in regulation and Dubnyk made 26 saves for the Wild, who improved to 18-6-1 at home and rebounded from an overtime defeat by rival Chicago two nights earlier. They haven't dropped consecutive games since a third straight loss on Dec. 2, two of which were by shootout.
"I think that's due to our depth and our understanding of how we need to play and being able to get big plays from everybody," Dubnyk said. "We believe we can win every game. We feel we should win every game. And so, when we lose one, we get back to what we've been doing."
Thriving under new coach Bruce Boudreau, the Wild have opened up a healthy lead in the race for first place in the Western Conference that they're trying to maintain. No wonder they were talking afterward about the playoffs-like feel on the ice against the Lightning.
"The atmosphere in the building has been a lot of fun," defenseman Jared Spurgeon said.
Vasilevskiy stopped 37 shots for the Lightning, who failed to post their first three-game winning streak in nearly three months. They still picked up a point to start a stretch of four straight road games when they go two weeks between home games.
"Getting points is huge for us right now, so anytime we can do that we're happy," Point said. "Obviously not satisfied. We want two points, but I think we played a better game."
The 22-year-old Vasilevskiy, who was Tampa Bay's first-round draft pick in 2012 and is in line to unseat Ben Bishop as the franchise goalie, gave up a long rebound on Mikael Granlund's shot that was set up by Pominville late in the second period. Niederreiter pounced on the puck and knocked in a backhander for his team-leading 18th goal of the season and the first power-play goal by the Wild in six games.
Dubnyk let in a fluky one to tie it about 2 minutes later when Point posted up Nate Prosser and sneaked a deflection through the Wild defenseman's skates that slid between Dubnyk's pads, too. Point didn't even realize right away that he scored, his mild celebration delayed.
The goalies stole the show, though, with Vasilevskiy making some especially tough saves.
"You've got to feel for the kid," coach Jon Cooper said. "Here's another one where we just get one for him."
The loss of star center Steven Stamkos was a big blow, but the Lightning have tumbled to the bottom of the Atlantic Division after reaching the Stanley Cup finals and Eastern Conference finals the last two years. They were in a 3-9-2 stretch until beating Anaheim and Los Angeles on Saturday and Tuesday.
"They're in their sense of urgency right now," Boudreau said. "They're playing really well."
NOTES
Lightning assistant Rick Bowness passed Scotty Bowman to become the league's career leader with 2,165 games behind an NHL bench as a coach. ... Pominville has 15 points in the last 11 games, leading the NHL during that span since Jan. 10. ... Lightning LWs Alex Killorn and Ondrej Palat returned to the lineup from injuries, but center Tyler Johnson was scratched with an undisclosed injury. ... Point, who recently missed a month with an upper-body injury, has three goals in five games since returning.
UP NEXT
Tampa Bay: The Lightning play at Winnipeg on Saturday night before going a full week before their next game at Dallas.
Minnesota: The Wild play their third of eight straight home games on Sunday afternoon against Detroit.