Lewis Hamilton grabs pole in front of home crowd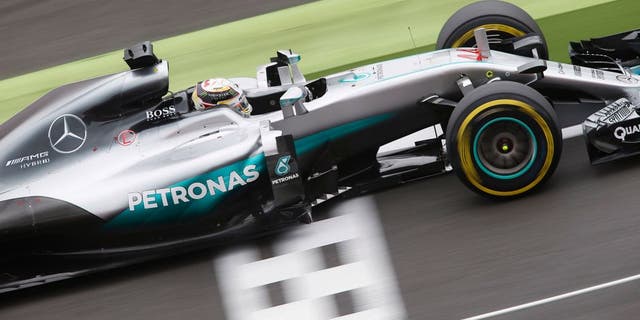 NEWYou can now listen to Fox News articles!
Lewis Hamilton will start on pole position for Sunday's British GP.
This is his sixth pole position this season and second in a row.
At the start of the final qualifying session, Hamilton set the fastest time ahead of his teammate Nico Rosberg but his lap time was deleted as he exceeded the track limits at Turn 9. However, Hamilton was able to go out again and put on a clean 1:29.287.
The Red Bull Racing teamates locked out the second row while the Ferrari teammates qualified in row 3. However, Sebastian Vettel will drop back five spots due to a gearbox change.
Fernando Alonso, Max Verstappen and Nico Hulkenberg also had lap times deleted, although Verstappen's did not cost him any spots.
A few big names were eliminated in Q2, with Sergio Perez, Felipe Massa and Daniil Kvyat failing to advance while all of their teammates made it through. The Haas team saw both cars eliminated, and have still yet to see one of their cars advance to a Q3 session.
There was confusion in the break between Q1 and Q2. Word spread throughout the paddock that Renault's Kevin Magnussen may have his lap time deleted for exceeding the track limits, which would have stopped him from participating in Q2 and gave his position to McLaren's Jenson Button.
Button, who has never finished on the podium in his home race, was eliminated in Q1 after problems on his car stopped him from having a second run. However, upon hearing the news about Magnussen, he ran back into his garage and got back in his machine, only to learn that Magnussen's lap was allowed.
Sauber's Marcus Ericsson did not participate in qualifying after being taken to the hospital following a crash in final practice.
Unofficial qualifying results:
1. Lewis Hamilton - Mercedes
2. Nico Rosberg - Mercedes
3. Max Verstappen - Red Bull
4. Daniel Ricciardo - Red Bull
5. Kimi Raikkonen - Ferrari
6. Sebastian Vettel - Ferrari (+5-place penalty)
7. Valtteri Bottas - Williams
8. Carlos Sainz - Toro Rosso
9. Nico Hulkenberg - Force India
10. Fernando Alonso - McLaren
11. Sergio Perez - Force India
12. Felipe Massa - Williams
13. Romain Grosjean - Haas
14. Esteban Gutierrez - Haas
15. Daniil Kvyat - Toro Rosso
16. Kevin Magnussen - Renault
17. Jenson Button - McLaren
18. Jolyon Palmer - Renault
19. Rio Haryanto - Manor
20. Pascal Wehrlein - Manor
21. Felipe Nasr - Sauber
22. Marcus Ericsson - Sauber (Did not participate in qualifying)